Ex-Formula 1 driver David Coulthard won the 2018 Race Of Champions, defeating 2003 World Rally champion Petter Solberg in the final at Riyadh in Saudi Arabia.
Coulthard won the best of three final by a 2-0 score. He took the opening heat ahead of Solberg in Whelen Euro NASCARs by just over half a second, then he sealed Champion of Champions victory by winning the following heat comfortably by 1.7 seconds in Vuhl 05 machines.
It was Coulthard's second Champion of Champions win after triumphing in Barbados in 2014, and he was undefeated throughout Saturday's individual event.
The result also means Solberg awaits his first individual win in this event, and that no rally driver has won it since Sebastien Ogier in 2011.
Coulthard defeated nine-time Le Mans 24 Hours winner Tom Kristensen in the semi-final in Xtreme Pickups, winning by just over a tenth, prolonging Kristensen's wait for a first individual RoC win after several near-misses.
World Rallycross team-mates Solberg and series champion Johan Kristoffersson faced off in the second semi-final in Vuhls. Solberg won by a second after a much better start.
Last year's Champion of Champions Juan Pablo Montoya was eliminated by Kristensen in the quarter-final by less than half a tenth in RoC buggies, Kristensen getting revenge for losing last year's final to the Colombian.
Coulthard beat 2012 IndyCar champion Ryan Hunter-Reay by six tenths in the second quarter-final, competing in Vuhls.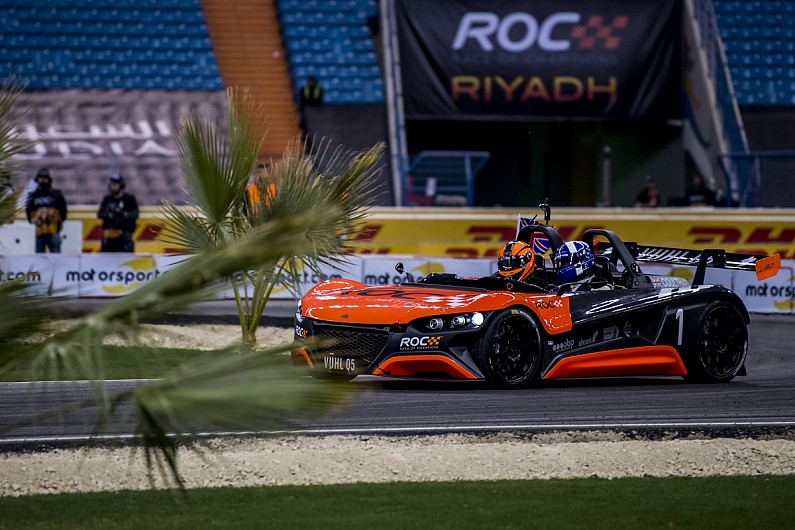 Kristoffersson progressed from the third quarter-final after reigning IndyCar champion Josef Newgarden locked up his brakes and hit the barriers in their Ariel Atom contest.
Solberg won the last quarter-final by beating European Formula 3 runner-up Joel Eriksson by just under a second in Euro NASCARs.
Montoya topped Group A with a clean sweep of three heat wins. Hunter-Reay progressed into the quarter-finals with him after pipping three-time Indianapolis 500 winner Helio Castroneves by less than a tenth of a second in their deciding heat for who would be the group's runner-up in Xtreme Pickups.
Castroneves therefore joined European Le Mans Series driver Memo Rojas in being eliminated at the group stage.
Coulthard had topped Group B in similar fashion by winning all three of his heats. Kristensen joined him in the quarter-finals as runner-up with two wins from three, after losing out to Coulthard in their heat in RoC buggies by four hundredths of a second.
Elsewhere in the group e-racer Rudy van Buren sprang a surprise by beating Friday's Nations Cup winner Timo Bernhard in KTM X-Bows. Both were eliminated from Group B, Bernhard having the ignominy of no heat wins.
Bernhard's Team Germany partner Rene Rast also failed to get beyond the group stages.
In Group C Kristoffersson, Eriksson and DTM champion Rast ended up tied on two wins apiece, and Kristofferson and Eriksson progressed by virtue of having the best heat times.
Rast won his final heat by default when European Formula 3 champion Lando Norris had to withdraw after crashing his Xtreme Pickup in an earlier heat and injuring his hand. Best times from their Ariel Atom heats had to be used to split Rast and Eriksson, which put Eriksson through.
Solberg topped Group D, another to win all three of his heats, and was joined in the quarter-finals by Newgarden. Local drivers Ahmed Bin Khanen and Yazeed Al-Rajhi dropped out from that group.