Eight privateer LMP1 cars will line up against Toyota at the Le Mans 24 Hours next year and in the 2018/19 World Endurance Championship superseason.
Confirmation of a second Ginetta from the British Manor team under the CEFC TRSM Racing banner has brought the total of P1 cars for Le Mans and the WEC to 10.
Ginetta test driver Charlie Robertson has been announced for the second of the two cars after Oliver Rowland was confirmed in the other car this morning.
Ginetta boss Lawrence Tomlinson said: "I'm delighted confirm that CEFC TRSM will be running a two-car effort in the WEC and Le Mans.
"Our LMP1 project has brought together some of the brightest stars in motorsport design and engineering, and the next chapter will see CEFC TRSM announcing driving talent of equally high measure."
The pair of Ginetta-Mecachrome G60-LT-P1s from Manor are joined on the LMP1 entry by three other constructors, as expected.
BR Engineering will be represented by a pair of works-entered BRE-AER BR1s from the ART-run SMP Racing team, which announced two of its drivers yesterday, and a privateer car from US entrant DragonSpeed with a Gibson engine.
Rebellion Racing is returning to P1 after a championship-winning assault on the LMP2 class in 2017 with a pair of its own Gibson-engined R13s developed by ORECA.
The German-based ByKolles squad is back with a solo ENSO CLM-Nissan P1/01, with team regular Oliver Webb the first confirmed driver.
Manor's increased P1 campaign explains its absence from the LMP2 entry list, despite its initial plan to remain in the secondary prototype division.
New entries from DragonSpeed with an ORECA-Gibson 07 and Larbre Competition, which was originally planning a Le Mans-only assault, will both field Ligier-Gibson JSP217s.
These additions have resulted in a seven-car P2 entry, despite the graduation of Rebellion and Manor to P1.
These include a pair of cars entered under the Jackie Chan DC Racing banner, which gained two guaranteed entries for the French enduro for its class successes in LMP2 and LMP3 in this winter's Asian Le Mans Series.
Its entries have been taken over by Ligier, though Chan/DC team boss David Cheng will race for the team after stepping down from the full-season line-up to concentrate on a management role.
The US JDC-Miller squad, which was awarded a guaranteed entry by IMSA, has not taken up its slot.
Ferrari to run extra factory car at Le Mans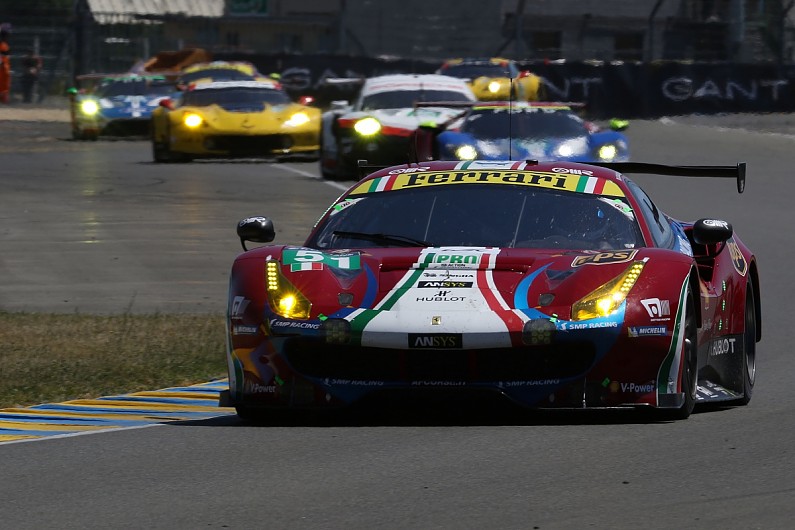 The factory AF Corse team will upgrade its GTE Pro assault to three cars for Le Mans in response to the four-car efforts from Ford and Porsche.
Ferrari regular Toni Vilander, who has raced with Risi Competizione at Le Mans for the past two years, is listed as the additional driver in the third car, which is numbered #52.
The extra Ferrari means that there will be 17 GTE Pro cars on the grid for Le Mans.
The regular WEC entry, which has increased to 10 cars with BMW's entry into the series, will be bolstered by the additional cars from Ferrari, Ford and Porsche, as well as the factory Chevrolet Corvette C7.Rs.
Nine cars will race in GTE Am over the 2018/19 superseason, up on last year's five, and will be joined by a further four class entries at Le Mans.
This means there will be a straight 50/50 split between prototypes and GT cars on the Le Mans grid this year.
It had already been announced that there would be no experimental 'Garage 56'entry this year.
A reserve list of nine cars, including European Le Mans Series newcomer Racing Engineering in LMP2, has been announced.