The LMP2-specification #38 Jackie Chan DC Racing ORECA-Gibson 07 of Thomas Laurent leads the Le Mans 24 Hours after the #1 Porsche retired from the race.
While the #1 Porsche of Andre Lotterer, sharing with Neel Jani and Nick Tandy, had completed one more lap than Laurent at the end of the 21st hour, it is officially out.
Lotterer reported a drop in oil pressure early in the hour while leading by 13 laps and was ordered to switch off the engine.
This occurred at the start of the lap, and he made prolonged attempts to get it back to the pits using only electrical power.
But after stopping and starting several times, he was eventually forced to give up on the Mulsanne straight.
The #38 ORECA moved to the top of the timing screens when the #1 Porsche was pulled out.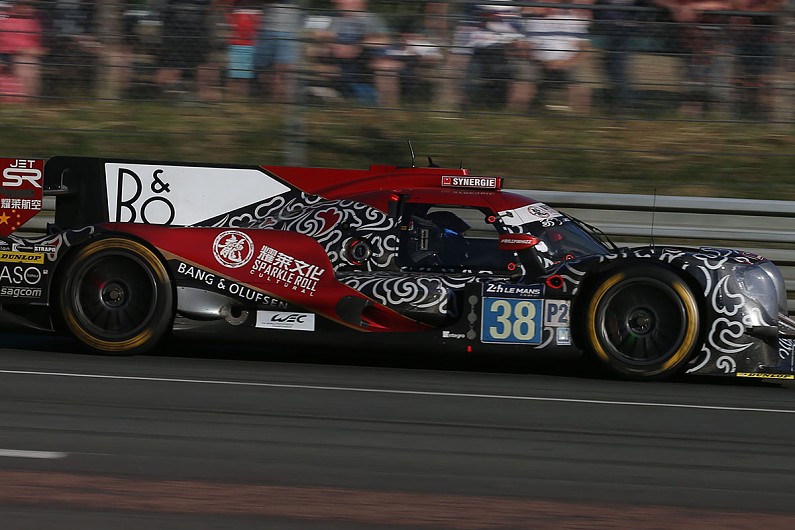 However, Porsche is still on target to win the race, as the #2 car driven by Brendon Hartley has the pace and the time to climb from its current second place to lead as it recovers from an earlier change of the front motor.
It is two laps behind the leader, and got ahead of the #13 Rebellion ORECA of Mathias Beche late in the 21st hour.
Beche had to serve an engine-off stop/go penalty for a pitstop infringement, which made Hartley's job easier.
The only other LMP1 car still running is the #8 Toyota of Kazuki Nakajima, but that does not have the time to clear the leading LMP2 cars unless they hit trouble.
The #35 Signatech ORECA runs third in the hands of Pierre Ragues ahead of the #32 United Autosports Ligier of Hugo de Sadeleer.
ASTON PASSES CORVETTE IN GTE PRO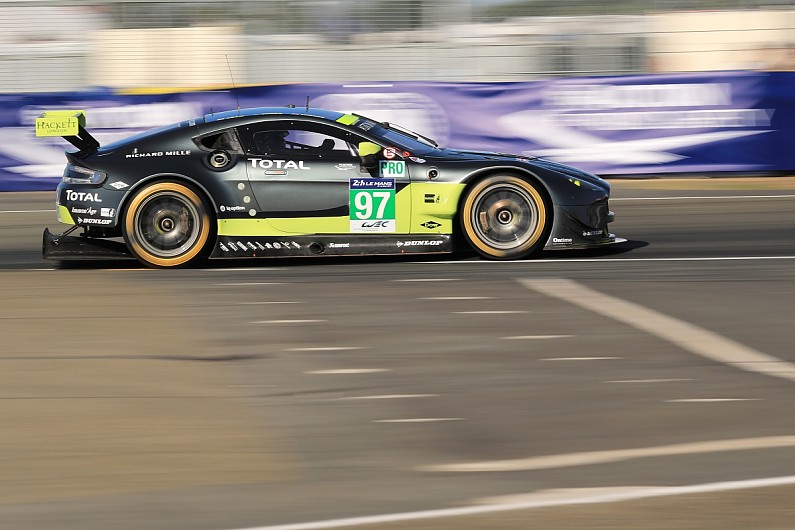 Daniel Serra's remarkable weekend – he broke the lap record twice earlier this morning in the #97 Vantage – continued as he passed Jan Magnussen for the lead of GTE Pro shortly before the turn of the hour.
Serra skilfully rode the slipstream of a passing LMP2 to get alongside and pass into the first chicane on the Mulsanne Straight.
Magnussen maintained the gap thereafter, but the real threat remains the out-of-sequence #91 Pilet/Makowiecki/Lietz Porsche that is likely to have to make one fewer stop, and which will retake the lead when the Aston and Corvette next stop.
Andy Priaulx is in fourth place in the fastest of the Chip Ganassi Racing-entered Ford GTs, 35s down on Pilet and currently on a similar pitstop schedule.
In GTE Am the #84 JMW Ferrari shared by Will Stevens, Robert Smith and Dries Vanthoor continues to lead by over a lap from the similar #55 Spirit of Race 488.
POSITIONS AFTER 21 HOURS
| POS | CLASS | CAR | DRIVERS | LAPS | GAP |
| --- | --- | --- | --- | --- | --- |
| 1 | LMP2 | #38 Oreca | Tung, Laurent, Jarvis | 317 | |
| 2 | LMP1 | #2 Porsche | Bernhard, Bamber, Hartley | 315 | + 2 Laps |
| 3 | LMP2 | #13 Oreca | Piquet Jr, H. Hansson, Beche | 315 | + 21.503s |
| 4 | LMP2 | #35 Alpine | Panciatici, Ragues, Negrao | 315 | + 35.370s |
| 5 | LMP2 | #37 Oreca | Cheng, Gommendy, Brundle | 314 | + 3 Laps |
| 6 | LMP2 | #32 Ligier | Owen, De Sadeleer, Albuquerque | 313 | + 4 Laps |
| 7 | LMP2 | #24 Oreca | Graves, Hirschi, Vergne | 312 | + 5 Laps |
| 8 | LMP2 | #40 Oreca | Allen, Matelli, Bradley | 312 | + 27.460s |
| 9 | LMP2 | #47 Dallara | Lacorte, Sernagiotto, Belicchi | 306 | + 11 Laps |
| 10 | LMP1 | #8 Toyota | Buemi, Davidson, Nakajima | 306 | + 18.287s |
| 11 | LMP2 | #34 Ligier | Moore, Hanson, Chandhok | 303 | + 14 Laps |
| 12 | LMP2 | #36 Alpine | Dumas, Menezes, Rao | 302 | + 15 Laps |
| 13 | LMP2 | #17 Ligier | Lafargue, Lafargue, Zollinger | 297 | + 20 Laps |
| 14 | LMP2 | #29 Dallara | Lammers, Van Eerd, Barrichello | 297 | + 8.687s |
| 15 | LMP2 | #21 Oreca | Hedman, Hanley, Rosenqvist | 296 | + 21 Laps |
| 16 | LMP2 | #33 Ligier | Nicolet, Nicolet, Maris | 295 | + 22 Laps |
| 17 | GTE Pro | #97 Aston | Turner, Adam, Serra | 294 | + 23 Laps |
| 18 | GTE Pro | #63 Chevrolet | Magnussen, Garcia, Taylor | 294 | + 0.969s |
| 19 | GTE Pro | #91 Porsche | Lietz, Makowiecki, Pilet | 294 | + 16.486s |
| 20 | GTE Pro | #67 Ford | Priaulx, Tincknell, Derani | 294 | + 51.645s |
| 21 | GTE Pro | #71 Ferrari | Rigon, Bird, Molina | 293 | + 24 Laps |
| 22 | GTE Pro | #68 Ford | Hand, Muller, Kanaan | 293 | + 1m20.410s |
| 23 | GTE Pro | #69 Ford | Briscoe, Westbrook, Dixon | 292 | + 25 Laps |
| 24 | LMP2 | #31 Oreca | Prost, Canal, Senna | 291 | + 26 Laps |
| 25 | LMP2 | #27 Dallara | Aleshin, Sirotkin, Shaitar | 289 | + 28 Laps |
| 26 | GTE Pro | #64 Chevrolet | Gavin, Milner, Fassler | 289 | + 30.098s |
| 27 | GTE Pro | #95 Aston | Thiim, Sorensen, Stanaway | 288 | + 29 Laps |
| 28 | GTE Am | #84 Ferrari | Smith, Stevens, Vanthoor | 288 | + 52.299s |
| 29 | GTE Am | #55 Ferrari | Cameron, Scott, Cioci | 287 | + 30 Laps |
| 30 | GTE Pro | #66 Ford | Mucke, Pla, Johnson | 286 | + 31 Laps |
| 31 | GTE Am | #62 Ferrari | Macneil, Sweedler, Bell | 286 | + 1m39.435s |
| 32 | GTE Am | #99 Aston | Howard, Gunn, Bryant | 286 | + 2m23.320s |
| 33 | GTE Am | #61 Ferrari | Mok, Sawa, Griffin | 285 | + 32 Laps |
| 34 | GTE Am | #77 Porsche | Ried, Cairoli, Dienst | 285 | + 1m18.006s |
| 35 | GTE Am | #93 Porsche | Long, Al Faisal, Hedlund | 284 | + 33 Laps |
| 36 | GTE Am | #90 Aston | Yoluc, Hankey, Bell | 284 | + 41.369s |
| 37 | GTE Am | #98 Aston | Dalla Lana, Lamy, Lauda | 284 | + 53.216s |
| 38 | GTE Am | #65 Ferrari | Nielsen, Balzan, Curtis | 283 | + 34 Laps |
| 39 | GTE Am | #86 Porsche | Wainwright, Barker, Foster | 283 | + 1m04.972s |
| 40 | LMP2 | #45 Ligier | Patterson, Mcmurry, Capillaire | 283 | + 1m08.846s |
| 41 | GTE Am | #60 Ferrari | Wee, Katoh, Parente | 283 | + 3m49.964s |
| 42 | GTE Am | #54 Ferrari | Flohr, Castellacci, Beretta | 282 | + 35 Laps |
| 43 | LMP2 | #22 Oreca | Rojas, Hirakawa, Gutierrez | 281 | + 36 Laps |
| 44 | LMP2 | #39 Oreca | Guibbert, Trouillet, Winslow | 280 | + 37 Laps |
| 45 | GTE Am | #83 Ferrari | Krohn, Jonsson, Bertolini | 277 | + 40 Laps |
| 46 | GTE Pro | #51 Ferrari | Calado, Pier Guidi, Rugolo | 275 | + 42 Laps |
| 47 | LMP2 | #49 Ligier | Konopka, Calko, Breukers | 267 | + 50 Laps |
| 48 | LMP2 | #43 Riley | Keating, Bleekemolen, Taylor | 267 | + 45.809s |
| 49 | GTE Am | #50 Chevrolet | Rees, Brandela, Philippon | 266 | + 51 Laps |
| 50 | LMP1 | #1 Porsche | Jani, Lotterer, Tandy | 318 | Retired |
| 51 | LMP2 | #23 Ligier | Barthez, Buret, Berthon | 296 | Retired |
| 52 | LMP2 | #28 Oreca | Perrodo, Vaxiviere, Collard | 213 | Retired |
| 53 | GTE Pro | #92 Porsche | Christensen, Estre, Werner | 179 | Retired |
| 54 | LMP1 | #9 Toyota | Lapierre, Kunimoto, Lopez | 160 | Retired |
| 55 | LMP1 | #7 Toyota | Conway, Kobayashi, Sarrazin | 154 | Retired |
| 56 | LMP2 | #25 Oreca | Gonzalez, Trummer, Petrov | 152 | Retired |
| 57 | GTE Pro | #82 Ferrari | Vilander, Fisichella, Kaffer | 72 | Retired |
| 58 | LMP2 | #26 Oreca | Rusinov, Thiriet, Lynn | 20 | Retired |
| 59 | GTE Am | #88 Porsche | Bachler, Lemeret, Al Qubaisi | 18 | Retired |
| 60 | LMP1 | #4 Enso | Webb, Kraihamer, Bonanomi | 7 | Retired |