Porsche LMP1 team principal Andreas Seidl admits his team "could not match" the pace set by Toyota during Sunday's official Le Mans 24 Hours test day.
Just under a year on from its heartbreaking 2016 defeat, Toyota dominated the test, locking out the top three positions with its trio of TS050 Hybrids and relegating Porsche to fourth and fifth places.

TEST DAY REPORT: Toyota already under 2016 pole time
Kamui Kobayashi set the best time of the day, a 3m18.132s, in the afternoon session aboard the #7 Toyota, going a full 1.6 seconds quicker than the pole time of Porsche driver Neel Jani from last year.
The sister #8 Toyota's best time was a 3m19.290s set by Sebastien Buemi, a little over two seconds faster than Jose Maria Lopez's best effort in the #9 car, while Earl Bamber set the pace for Porsche on a 3m21.512s.
While Seidl said Porsche chose not to attempt a full-blown qualifying simulation, he admitted the time set by Kobayashi and Toyota was "impressive".
"We've had a mixed test day," said Seidl. "We were focusing on race set-up and refrained from simulating qualifying.
"Although we didn't achieve the mileage we wanted, we still learnt important lessons for the race regarding tyre choice and tyre wear.
"Toyota's speed was impressive, we could not match that.
"In the coming days we will analyse today's data and draw our conclusions to improve our cars' performance."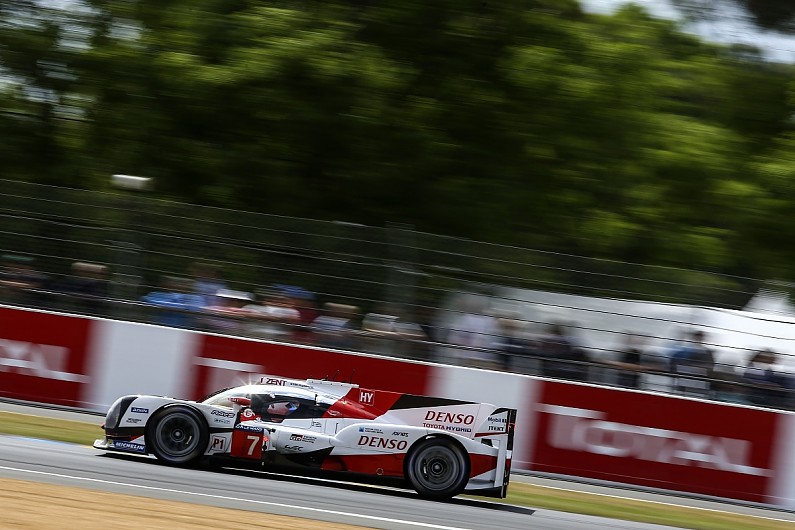 Kobayashi's time put him within 1.3s of Jani's lap record, set when he took pole in 2015 on a 3m16.887s.
But Kobayashi declared his laptime to be "not brilliant" and reckoned he could have gone at least half a second quicker without traffic and without the full benefit of track evolution.
"The lap time was not really brilliant," said Kobayashi.
"Actually I had a lot of traffic, so we were missing half a second of lap time, which I think is very positive for us.
"It's a really exciting feeling when the lap time wasn't really the best, but we still achieved a good lap time.
"It was only at the start of the session, I think the third or fifth lap, so the track evolution would have helped more and we'll see more lap time coming in the next two weeks."