Kevin Harvick dominated a rain-delayed NASCAR Cup race at Atlanta Motor Speedway for Stewart-Haas Racing, despite dropping to 19th early on after a troubled pitstop.
Harvick was a step ahead of his rivals on track throughout the race, taking a clear win in the first stage.
In the pitstop ahead of stage two, Harvick ran into wheelgun problems and had to make an additional stop that dropped him to 19th.
But within 36 laps he had made his way back through the field to retake the lead.
With the rain that had delayed the start looming again in the closing laps, Joe Gibbs Racing's Denny Hamlin and Penske driver Joey Logano opted to make one pitstop fewer than most in the hope of cycling to the front as others stopped and benefiting if the race was truncated early.
That brought them up to third and fourth behind Harvick and stage two winner Brad Keselowski when Trevor Bayne's engine blew and brought out a late caution with 28 laps to go.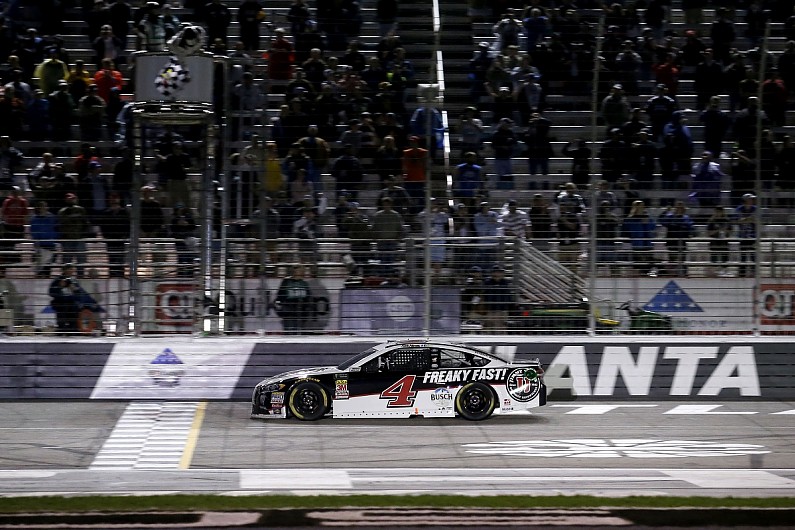 Harvick was able to stay in control after the restart and win ahead of Penske driver Keselowski, while Harvick's team-mate Clint Bowyer completed a Ford 1-2-3 and SHR one-three with late progress to third.
Hamlin and Logano ended up fourth and sixth, sandwiching reigning champion Martin Truex Jr – who had come up from the tail of the field following multiple failures to clear NASCAR's new technical inspection process ahead of qualifying on Friday.
Daytona 500 winner Austin Dillon also had to start to the back after pre-race component changes, and had a quiet run to 14th.
Race result
| POS | DRIVER | TEAM | CAR | LAPS |
| --- | --- | --- | --- | --- |
| 1 | Kevin Harvick | Stewart-Haas Racing | Ford | 325 |
| 2 | Brad Keselowski | Team Penske | Ford | 325 |
| 3 | Clint Bowyer | Stewart-Haas Racing | Ford | 325 |
| 4 | Denny Hamlin | Joe Gibbs Racing | Toyota | 325 |
| 5 | Martin Truex Jr. | Furniture Row Racing | Toyota | 325 |
| 6 | Joey Logano | Team Penske | Ford | 325 |
| 7 | Kyle Busch | Joe Gibbs Racing | Toyota | 325 |
| 8 | Kurt Busch | Stewart-Haas Racing | Ford | 325 |
| 9 | Kyle Larson | Chip Ganassi Racing | Chevrolet | 325 |
| 10 | Chase Elliott | Hendrick Motorsports | Chevrolet | 325 |
| 11 | Erik Jones | Joe Gibbs Racing | Toyota | 325 |
| 12 | Ryan Blaney | Team Penske | Ford | 325 |
| 13 | Aric Almirola | Stewart-Haas Racing | Ford | 325 |
| 14 | Austin Dillon | Richard Childress Racing | Chevrolet | 324 |
| 15 | Daniel Suarez | Joe Gibbs Racing | Toyota | 324 |
| 16 | Ricky Stenhouse Jr. | Roush Fenway Racing | Ford | 324 |
| 17 | Paul Menard | Wood Brothers Racing | Ford | 324 |
| 18 | William Byron | Hendrick Motorsports | Chevrolet | 323 |
| 19 | Jamie McMurray | Chip Ganassi Racing | Chevrolet | 323 |
| 20 | Alex Bowman | Hendrick Motorsports | Chevrolet | 322 |
| 21 | Kasey Kahne | Leavine Family Racing | Chevrolet | 322 |
| 22 | Ryan Newman | Richard Childress Racing | Chevrolet | 322 |
| 23 | David Ragan | Front Row Motorsports | Ford | 321 |
| 24 | Michael McDowell | Front Row Motorsports | Ford | 321 |
| 25 | Chris Buescher | JTG Daugherty Racing | Chevrolet | 321 |
| 26 | Ty Dillon | Germain Racing | Chevrolet | 321 |
| 27 | Jimmie Johnson | Hendrick Motorsports | Chevrolet | 321 |
| 28 | Cole Whitt | TriStar Motorsports | Chevrolet | 320 |
| 29 | A.J. Allmendinger | JTG Daugherty Racing | Chevrolet | 320 |
| 30 | Ross Chastain | Premium Motorsports | Chevrolet | 319 |
| 31 | Matt DiBenedetto | Go FAS Racing | Ford | 319 |
| 32 | Darrell Wallace Jr. | Richard Petty Motorsports | Chevrolet | 319 |
| 33 | Harrison Rhodes | Rick Ware Racing | Chevrolet | 310 |
| 34 | Jeffrey Earnhardt | StarCom Racing | Chevrolet | 305 |
| 35 | Trevor Bayne | Roush Fenway Racing | Ford | 292 |
| 36 | Gray Gaulding | BK Racing | Toyota | 99 |
Drivers' standings
| POS | DRIVER | POINTS |
| --- | --- | --- |
| 1 | Joey Logano | 89 |
| 2 | Ryan Blaney | 83 |
| 3 | Denny Hamlin | 77 |
| 4 | Kevin Harvick | 75 |
| 5 | Clint Bowyer | 74 |
| 6 | Austin Dillon | 70 |
| 7 | Martin Truex Jr. | 69 |
| 8 | Kurt Busch | 68 |
| 9 | Paul Menard | 66 |
| 10 | Aric Almirola | 66 |
| 11 | Kyle Busch | 61 |
| 12 | Brad Keselowski | 58 |
| 13 | Kyle Larson | 54 |
| 14 | Darrell Wallace Jr. | 52 |
| 15 | Michael McDowell | 52 |
| 16 | Ryan Newman | 49 |
| 17 | Alex Bowman | 46 |
| 18 | Chris Buescher | 45 |
| 19 | Chase Elliott | 44 |
| 20 | Ricky Stenhouse Jr. | 43 |
| 21 | Jamie McMurray | 41 |
| 22 | A.J. Allmendinger | 36 |
| 23 | Erik Jones | 35 |
| 24 | Trevor Bayne | 33 |
| 25 | William Byron | 33 |
| 26 | Daniel Suarez | 27 |
| 27 | David Ragan | 25 |
| 28 | Kasey Kahne | 19 |
| 29 | Jeffrey Earnhardt | 19 |
| 30 | Gray Gaulding | 18 |
| 31 | Matt DiBenedetto | 16 |
| 32 | Mark Thompson | 15 |
| 33 | D.J. Kennington | 13 |
| 34 | Ty Dillon | 12 |
| 35 | Jimmie Johnson | 11 |
| 36 | Brendan Gaughan | 9 |
| 37 | Cole Whitt | 9 |
| 38 | Harrison Rhodes | 4 |
| 39 | Danica Patrick | 2 |
| 40 | Corey LaJoie | 1 |
| 41 | Justin Marks | 0 |
| 42 | David Gilliland | 0 |
| 43 | Ross Chastain | 0 |