Reigning NASCAR Cup series champion Martin Truex Jr held on through a spate of late cautions to take his second victory of the season at Pocono.
The Furniture Row Racing driver ran consistently in the top five throughout, although he rarely led the pack after the conclusion of the first stage.
Kevin Harvick and Kyle Busch led the majority of stages two and three, but a caution on lap 139 of 160 brought a split in strategy, with Truex, Harvick, Chase Elliot and Kyle Larson staying out to maintain track position.
Through two more cautions during the final 20 laps kept ahead of the rest of the pack at each restart, Truex edged out a lead to win by 2.4 seconds.
Chip Ganassi's Larson moved up to second place past Harvick at the restart following the caution on lap 142, and held off Harvick and Kyle Busch to take the runners-up spot.
Busch also passed Harvick for third after the race restarted for the final time. The Joe Gibbs Racing driver was the highest-placed of those who pitted for fresh tyres, but even with new rubber could not add to his victory in Saturday's Xfinity race.
Stewart-Haas Racing's Harvick, who won stage two and led the most laps, had to settle for fourth at the flag.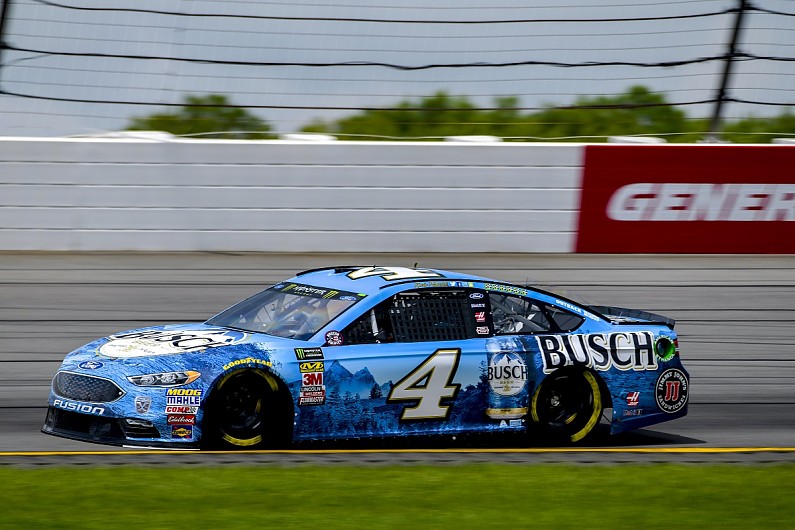 Brad Keselowski was the leading Team Penske driver in fifth, with team-mate Ryan Blaney finishing just behind in sixth.
Harvick's SHR team-mate Aric Almirola rose from 34th to finish seventh, with Jimmie Johnson eighth for Hendrick Motorsport after consistently running in the top 10.
His team-mate Elliot rounded off the top 10, trailing the third Penske Ford of Joey Logano.
Result – 160 laps
| POS | DRIVER | TEAM | CAR | GAP |
| --- | --- | --- | --- | --- |
| 1 | Martin Truex Jr. | Furniture Row Racing | Toyota | 2h52m00.s |
| 2 | Kyle Larson | Chip Ganassi Racing | Chevrolet | 2.496s |
| 3 | Kyle Busch | Joe Gibbs Racing | Toyota | 22h08m00.s |
| 4 | Kevin Harvick | Stewart-Haas Racing | Ford | 22h08m00.s |
| 5 | Brad Keselowski | Team Penske | Ford | 22h08m00.s |
| 6 | Ryan Blaney | Team Penske | Ford | 22h08m00.s |
| 7 | Aric Almirola | Stewart-Haas Racing | Ford | 22h08m00.s |
| 8 | Jimmie Johnson | Hendrick Motorsports | Chevrolet | 22h08m00.s |
| 9 | Joey Logano | Team Penske | Ford | 22h08m00.s |
| 10 | Chase Elliott | Hendrick Motorsports | Chevrolet | 22h08m00.s |
| 11 | Paul Menard | Wood Brothers Racing | Ford | 22h08m00.s |
| 12 | Austin Dillon | Richard Childress Racing | Chevrolet | 22h08m00.s |
| 13 | Matt Kenseth | Roush Fenway Racing | Ford | 22h08m00.s |
| 14 | Ricky Stenhouse Jr. | Roush Fenway Racing | Ford | 22h08m00.s |
| 15 | Jamie McMurray | Chip Ganassi Racing | Chevrolet | 22h08m00.s |
| 16 | David Ragan | Front Row Motorsports | Ford | 22h08m00.s |
| 17 | Chris Buescher | JTG Daugherty Racing | Chevrolet | 22h08m00.s |
| 18 | William Byron | Hendrick Motorsports | Chevrolet | 22h08m00.s |
| 19 | Kurt Busch | Stewart-Haas Racing | Ford | 22h08m00.s |
| 20 | Clint Bowyer | Stewart-Haas Racing | Ford | 22h08m00.s |
| 21 | Michael McDowell | Front Row Motorsports | Ford | 22h08m00.s |
| 22 | A.J. Allmendinger | JTG Daugherty Racing | Chevrolet | 22h08m00.s |
| 23 | Ty Dillon | Germain Racing | Chevrolet | 22h08m00.s |
| 24 | Daniel Suarez | Joe Gibbs Racing | Toyota | 22h08m00.s |
| 25 | Ryan Newman | Richard Childress Racing | Chevrolet | 22h08m00.s |
| 26 | Cole Custer | Rick Ware Racing | Ford | 22h08m00.s |
| 27 | Alex Bowman | Hendrick Motorsports | Chevrolet | 22h08m00.s |
| 28 | Ross Chastain | Premium Motorsports | Chevrolet | 1 Lap |
| 29 | Erik Jones | Joe Gibbs Racing | Toyota | 1 Lap |
| 30 | Cole Whitt | TriStar Motorsports | Chevrolet | 2 Laps |
| 31 | Landon Cassill | StarCom Racing | Chevrolet | 3 Laps |
| 32 | J.J. Yeley | NY Racing Team | Chevrolet | 3 Laps |
| 33 | Gray Gaulding | BK Racing | Toyota | 3 Laps |
| 34 | Derrike Cope | StarCom Racing | Chevrolet | 8 Laps |
| 35 | Denny Hamlin | Joe Gibbs Racing | Toyota | Accident |
| 36 | Kasey Kahne | Leavine Family Racing | Chevrolet | Transmission |
| 37 | Matt DiBenedetto | Go FAS Racing | Ford | Brakes |
| 38 | Darrell Wallace Jr. | Richard Petty Motorsports | Chevrolet | Engine |