Martin Truex Jr won the first playoff race of the 2017 NASCAR Cup season as he recovered from two pitstop mistakes for victory at Chicagoland.
Regular season winner Truex led 77 of the 267 laps on the way to a win that further consolidates his playoff points lead and books him a place as one of the 12 who progress from this current round of 16.
In second place was Hendrick Motorsports' Chase Elliott, who won stage two but started stage three in second, while Kevin Harvick took his Stewart-Haas Racing Ford to third place having led 59 laps.
Denny Hamlin was the highest Joe Gibbs finisher in fourth, while the winner of the final regular season race, Kyle Larson, rounded out the top five.
Stage one was won comfortably by polesitter Kyle Busch ahead of Harvick, without a yellow flag flown.
JGR racer Busch lapped 26 of 40 cars over the first 80 laps, but a penalty for having too many crew members over the wall in stage two sent him back two laps down and he could only finish 15th.
Truex fell back in stage one having sped in the pitlane on lap 40, but he recovered 10th. The Furniture Row driver had more issues in the pitlane as, before stage two began, a loose wheel from his lap 80 pitstop forced him to stop again.
Elliott took stage two having won a race off pit road on lap 120 over then-leader Harvick, but Truex had managed to recover to third place, having overtaken Larson and Brad Keselowski in the last 10 laps of the second stage with frightening pace.
Harvick led the restart for stage three with Elliott chasing, but Truex closed in on both and swiftly took second.
With 77 laps to Truex duly took the lead with clever use of the apron to sneak under backmarkers and chase Harvick down.
Truex spent the following 20 laps building on that lead, lapping 25 cars including stage one winner Busch in the process, until Erik Jones spun without contact on lap 210.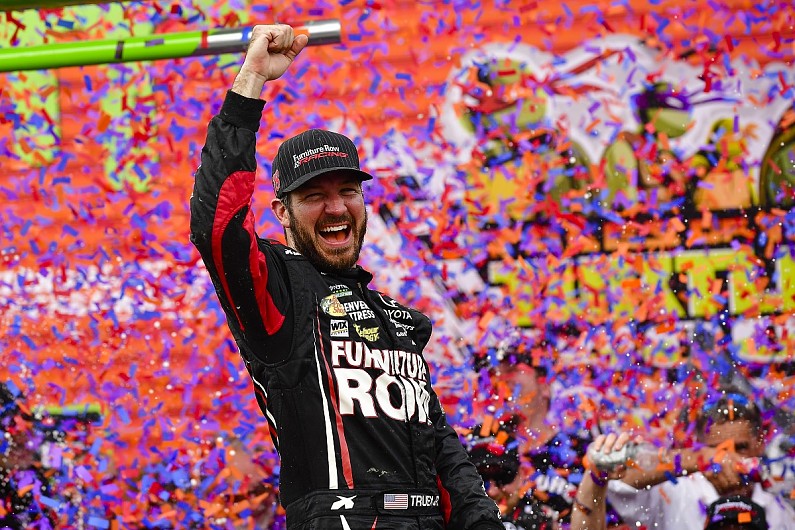 The restart was Truex's and he stretched his legs to eventually build a 7.1 second lead over Elliott, who had overtaken Harvick on lap 228.
Team Penske pair Keselowski and Joey Logano finished sixth and seventh, respectively while Jimmie Johnson remained anonymous in his foray up to eighth having started 14th.
Rounding out the top 10 were Matt Kenseth of JGR and Larson's Chip Ganassi Racing team-mate Jamie McMurray, who recovered from an earlier spin having made contact with Ryan Newman in stage two.
Only the top 12 drivers finished on the lead lap.