Ferrari Formula 1 driver Kimi Raikkonen topped the second free practice session for the Bahrain Grand Prix, but he was forced to pull off the circuit late on with a loose wheel.
Raikkonen was third fastest in the early running, behind team-mate Sebastian Vettel and Mercedes driver Valtteri Bottas using the soft compound Pirellis.
Raikkonen was the first driver to bolt on the super-soft Pirellis to complete a qualifying simulation, setting a best lap of 1m28.817s on his initial flier.
Raikkonen went on to do long-run work, but having done a lengthy stint on the super-softs he bolted on softs and was sent back out, only to stop on his outlap with a loose front-right wheel with 14 minutes remaining.
Stewards will investigate the incident after the session, and do have the power to issue grid penalties for unsafe releases in practice sessions.
Raikkonen's super-soft time was never beaten, although Vettel ended up just 0.011s behind on his qualifying simulation after setting a strong pace in the second and third sectors of the Sakhir circuit.
Bottas was third, 0.552s slower than Vettel, although Mercedes team-mate Lewis Hamilton should have been ahead of him.
On his fastest lap, Hamilton was on target to go third but was held up by Haas driver Kevin Magnussen in the final right-hander.
Hamilton wound up 0.655s off the pace, but was over three-tenths off the best time set in the final sector on that lap.
Hamilton earlier had an off at the first corner after locking up on his first set of tyres, running onto the asphalt runoff before re-joining.
Red Bull driver Max Verstappen was fifth fastest, but complained of a lack of power and was disappointed with his qualifying simulation as he ended up 0.928s off the pace.
But that was enough to put him just ahead of team-mate and FP1 pacesetter Daniel Ricciardo, who was a further six-thousandths of a second back.
Best of the rest was Renault driver Nico Hulkenberg, who was 1.403s off the pace.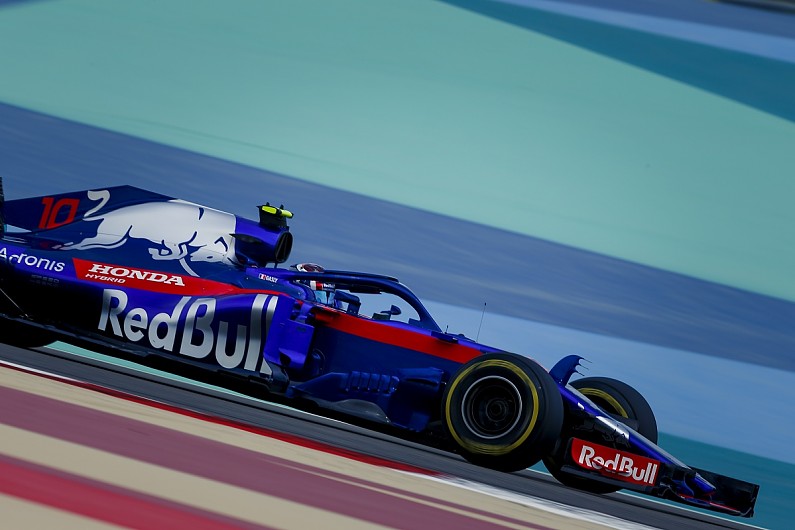 A surprise challenger for that position was Toro Rosso-Honda driver Pierre Gasly, who put in a lap just 0.012s slower to beat McLaren pairing Fernando Alonso and Stoffel Vandoorne to eighth place.
Romain Grosjean was 11th fastest for Haas ahead of the second Renault of Carlos Sainz Jr and the Force Indias of Esteban Ocon and Sergio Perez.
Charles Leclerc was 16th, 2.555s off the pace, while Sauber team-mate Marcus Ericsson was 19th after surviving a spin into the gravel after losing the rear at the exit of Turn 2.
The Sauber duo was split by the two Williams drivers – Lance Stroll and Sergey Sirotkin – with Toro Rosso's Brendon Hartley last.
| POS | DRIVER | CAR | TIME | GAP | LAPS |
| --- | --- | --- | --- | --- | --- |
| 1 | Kimi Raikkonen | Ferrari | 1m29.817s | – | 32 |
| 2 | Sebastian Vettel | Ferrari | 1m29.828s | 0.011s | 37 |
| 3 | Valtteri Bottas | Mercedes | 1m30.380s | 0.563s | 31 |
| 4 | Lewis Hamilton | Mercedes | 1m30.472s | 0.655s | 32 |
| 5 | Max Verstappen | Red Bull/Renault | 1m30.745s | 0.928s | 32 |
| 6 | Daniel Ricciardo | Red Bull/Renault | 1m30.751s | 0.934s | 31 |
| 7 | Nico Hulkenberg | Renault | 1m31.220s | 1.403s | 34 |
| 8 | Pierre Gasly | Toro Rosso/Honda | 1m31.232s | 1.415s | 38 |
| 9 | Fernando Alonso | McLaren/Renault | 1m31.282s | 1.465s | 29 |
| 10 | Stoffel Vandoorne | McLaren/Renault | 1m31.422s | 1.605s | 35 |
| 11 | Romain Grosjean | Haas/Ferrari | 1m31.591s | 1.774s | 33 |
| 12 | Carlos Sainz | Renault | 1m31.601s | 1.784s | 34 |
| 13 | Esteban Ocon | Force India/Mercedes | 1m31.809s | 1.992s | 31 |
| 14 | Sergio Perez | Force India/Mercedes | 1m31.868s | 2.051s | 34 |
| 15 | Kevin Magnussen | Haas/Ferrari | 1m31.969s | 2.152s | 35 |
| 16 | Charles Leclerc | Sauber/Ferrari | 1m32.372s | 2.555s | 37 |
| 17 | Lance Stroll | Williams/Mercedes | 1m32.382s | 2.565s | 30 |
| 18 | Sergey Sirotkin | Williams/Mercedes | 1m32.474s | 2.657s | 37 |
| 19 | Marcus Ericsson | Sauber/Ferrari | 1m32.733s | 2.916s | 32 |
| 20 | Brendon Hartley | Toro Rosso/Honda | 1m32.908s | 3.091s | 38 |