Toro Rosso driver Brendon Hartley says his first Formula 1 race weekend using a Honda engine did not flag up any concerns over raceability or overtaking.
The Kiwi endured a difficult first race with the Honda power unit, with a lock-up on the run to Turn 1 at the start of the Australian Grand Prix effectively putting paid to any chance of a decent result.
He ultimately ended up last of the classified finishers in 15th and a lap down, having made a second stop during the race with a puncture.
But Hartley said he left Melbourne encouraged by the Honda engine, and added he had no qualms about its performance in wheel-to-wheel battle.
"I did drive with a different engine at the end of last year," he said. "I think the Honda is pretty flexible with a bit of racecraft as well.
"Obviously DRS and top speed is a big part of making an overtake, but from what I've seen so far everything is running pretty seamlessly, from a driver's point of view there's not too much to manage.
"Everything is going in the right direction, there is no real concern from my side.
"From what I understand [Honda] have updates coming too.
"There's no concern from racecraft or raceability.
"I can't comment on Mercedes and Ferrari [and] what they do, but we have a few tools to try and make an overtake stick."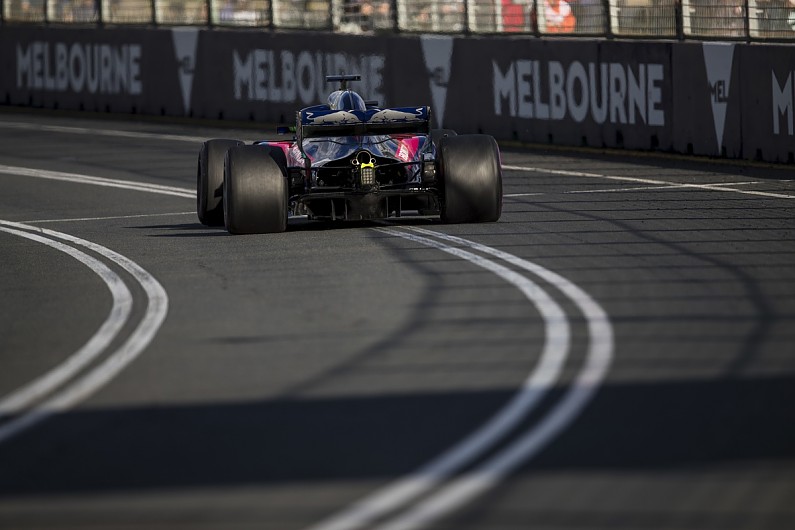 Hartley added that he felt significantly more comfortable at Toro Rosso as a full-season driver than during his cameo spell at the end of 2017.
"I felt really comfortable in the team, in the car," he said. "Much more than last year.
"Qualifying, in hindsight we probably should have done three runs, I think that would have given us the best opportunity to get through to Q2.
"Half a tenth more I would have been through to Q2 and had another shot to improve again.
"But I felt comfortable, I felt like I knew what I wanted from the car.
"From that point of view I was really happy, I managed my time well within the team.
"We just didn't get the result we targeted, which was a point. As we saw that was a bit out of reach today regardless."
Hartley's team-mate Pierre Gasly retired from the race after 13 laps after an engine failure.