Lewis Hamilton will keep his pole position for Formula 1's British Grand Prix after being cleared of blocking Romain Grosjean in Q3 at Silverstone.
Grosjean was left furious after feeling that he had been impeded by Hamilton on the left-hand turn into Club as he finished his first run in the final shootout session.
The Haas team suspected Grosjean had lost around three tenths of a second in the incident and would have beaten Stoffel Vandoorne to ninth place.
Although the race stewards launched an investigation into the matter, their analysis of the situation was that while Hamilton had got in Grosjean's way, he had not cost the Frenchman anything.
A statement issued by the FIA said: "The stewards examined video and telemetry evidence and concluded that while GRO may potentially have been affected by the presence of HAM at Turn 16, he was not impeded."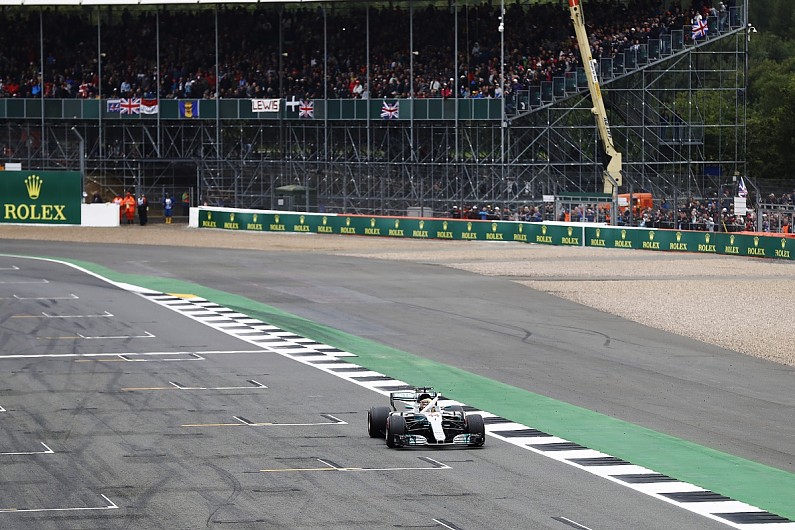 Prior to the stewards' decision, Hamilton had already apologised to Grosjean and claimed he had received no warning from his Mercedes team over the radio that the Haas driver was approaching him.
"I was coming around to start my lap, Valtteri [Bottas] up ahead, I was trying to get the space," said Hamilton.
"Behind me was one of the Force Indias, who then came in, so there was no one behind me.
"Literally as I was about to get on the gas I looked in the mirror and saw a car, and I tried to get going.
"I don't know if I got in the way, if I did I apologise.
"I had no indication from the team that anyone was coming. I need to look at the footage.
"I don't think he was that close when I pulled away, but I will have a look."
PROVISIONAL BRITISH GP STARTING GRID:
| POS | DRIVER | CAR | TIME | GAP |
| --- | --- | --- | --- | --- |
| 1 | Lewis Hamilton | Mercedes | 1m26.600s | – |
| 2 | Kimi Raikkonen | Ferrari | 1m27.147s | 0.547s |
| 3 | Sebastian Vettel | Ferrari | 1m27.356s | 0.756s |
| 4 | Max Verstappen | Red Bull/Renault | 1m28.130s | 1.530s |
| 5 | Nico Hulkenberg | Renault | 1m28.856s | 2.256s |
| 6 | Sergio Perez | Force India/Mercedes | 1m28.902s | 2.302s |
| 7 | Esteban Ocon | Force India/Mercedes | 1m29.074s | 2.474s |
| 8 | Stoffel Vandoorne | McLaren/Honda | 1m29.418s | 2.818s |
| 9 | Valtteri Bottas | Mercedes | 1m27.376s | 0.776s |
| 10 | Romain Grosjean | Haas/Ferrari | 1m29.549s | 2.949s |
| 11 | Jolyon Palmer | Renault | 1m30.193s | – |
| 12 | Daniil Kvyat | Toro Rosso/Renault | 1m30.355s | – |
| 13 | Carlos Sainz | Toro Rosso/Renault | 1m31.368s | – |
| 14 | Felipe Massa | Williams/Mercedes | 1m31.482s | – |
| 15 | Lance Stroll | Williams/Mercedes | 1m42.573s | – |
| 16 | Kevin Magnussen | Haas/Ferrari | 1m42.577s | – |
| 17 | Pascal Wehrlein | Sauber/Ferrari | 1m42.593s | – |
| 18 | Marcus Ericsson | Sauber/Ferrari | 1m42.633s | – |
| 19 | Daniel Ricciardo | Red Bull/Renault | 1m42.966s | – |
| 20 | Fernando Alonso | McLaren/Honda | 1m30.600s | – |