Brendon Hartley will miss Formula 1 qualifying at Silverstone after a heavy accident in FP3, but Toro Rosso will run Pierre Gasly after changing his car's front suspension.
Hartley crashed after a front left failure on the STR13, damaging his chassis beyond immediate repair, so the spare car will be built up for the race.
After the crash Gasly had to sit out the remainder of FP3 while the team investigated the failure.
Toro Rosso believes it was a wishbone failure, but has reserved judgement pending a proper inspection.
"We kept Gasly in the garage because we didn't know the reason," team boss Franz Tost told Autosport.
"And to be honest until now we are not 100% convinced that the lower wishbone was the reason which we assume caused this accident.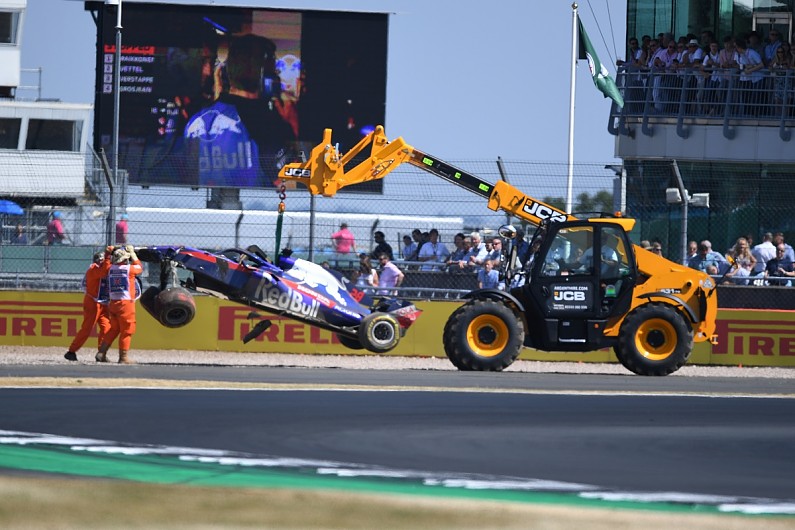 "This was why we didn't want to go out with Pierre, because the risk was too high.
"Now we are changing the complete front suspension, and we hope the car is ready in time, and that nothing will happen."
Asked if the new parts were from a different production batch he said: "I don't know whether they are from the same batch to be honest, but we try to do everything to prevent that something happens once more."
Tost said it wasn't clear whether the bumpy resurfaced Silverstone track has contributed to the problem.
"I don't know to be honest," he added. "Normally it must not happen because all these parts are pre-tested on the seven-post rig, there are so many fatigue tests that we do, and therefore we are a little bit surprised why this happened.
"We have to investigate, and send the parts to a special institute to find out why it happened. It could be a de-lamination, and so on."
Regarding Hartley's situation he said: "The monocoque is damaged, therefore we have to change it, and we hope to get everything ready for the race tomorrow."