Sebastian Vettel claimed pole position for Singapore Grand Prix, with Formula 1 world championship rival Lewis Hamilton down in fifth.
Ferrari driver Vettel set a time quick enough for pole position on his first run in Q3, during which all drivers used ultra-soft rubber, with a 1m39.669s.
He then survived a light brush of the wall at the right-hander coming out from under the grandstand on his second run to improve to a 1m39.491s to take pole from Red Bull driver Max Verstappen by 0.323 seconds.
Verstappen had set the pace in Q2, but after going second fastest on his first run in Q3 he was unable to improve on his second.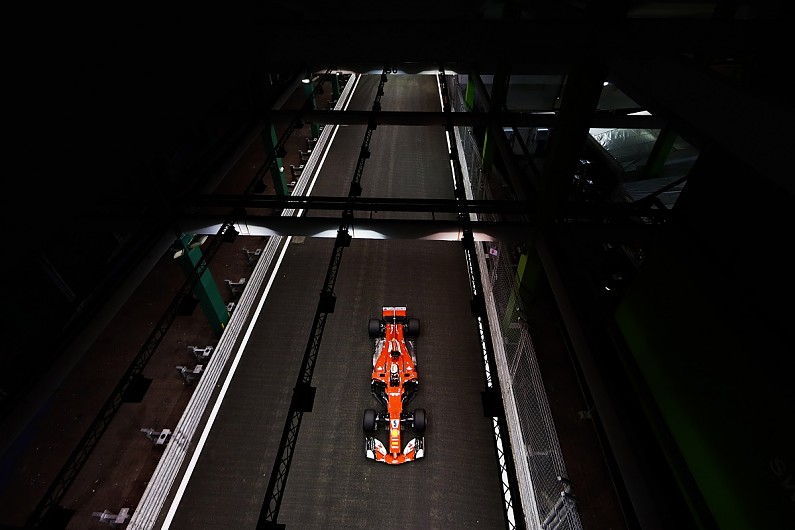 Daniel Ricciardo was third in the second Red Bull, but could only improve by 0.022s on his second run.
That left Kimi Raikkonen in fourth place, unable to carry his impressive first-sector pace into the second and third sectors of his final lap.
Hamilton and Valtteri Bottas both qualified on the third row, with the gap between the two Mercedes team-mates almost seven tenths of a second.
Nico Hulkenberg was best-of-the rest in seventh for Renault, just ahead of McLaren's Fernando Alonso.
The second McLaren-Honda of Stoffel Vandoorne was ninth, well ahead of 10th-placed Carlos Sainz Jr.
Renault driver Jolyon Palmer missed out on Q3 after being relegated to 11th by Alonso on the second runs in the second segment of qualifying.
Palmer failed to improve on his second set of tyres in Q2 thanks to a moment at the final corner, which the team suggested over the radio cost him 10th place.
Sergio Perez complained about having "no grip at all" on his second Q2 run and ended up 12th after being unable to improve on his first-run time.
Daniil Kvyat did improve on his second run, but only by enough to take 13th ahead of the second Force India of Esteban Ocon.
Romain Grosjean, who paid two visits to the Turn 7 escape road at the end of the back straight in Q1, didn't post a time on his first run in Q2 and was unable to do better than 15th when he made his second attempt.
Kevin Magnussen was the fastest of those eliminated in Q1, having been relegated to 16th by Hulkenberg's leap up the order.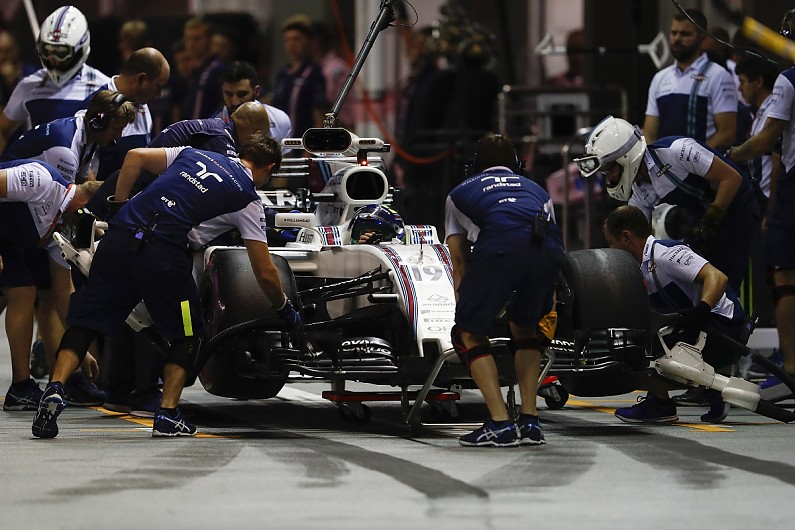 Williams driver Felipe Massa was also knocked out in 17th after a difficult session.
He didn't set a serious lap time on his first run because he clipped the wall at the exit of the Turn 20/21 right-left and suffered a right-rear puncture.
Massa then had a big moment in the fast left-hander at the end of his final flying lap, which ensured any faint hope he had of making Q2 was lost.
His team-mate Lance Stroll was 18th ahead of Sauber driver Pascal Wehrlein, who also had a minor brush with the wall at the penultimate complex of corners.
Marcus Ericsson was last in the second Sauber, and will be given a five-place grid penalty thanks to a gearbox change triggered by damage suffered when he hit the wall during free practice three.
Qualifying result
| POS | DRIVER | CAR | TIME | GAP |
| --- | --- | --- | --- | --- |
| 1 | Sebastian Vettel | Ferrari | 1m39.491s | – |
| 2 | Max Verstappen | Red Bull/Renault | 1m39.814s | 0.323s |
| 3 | Daniel Ricciardo | Red Bull/Renault | 1m39.840s | 0.349s |
| 4 | Kimi Raikkonen | Ferrari | 1m40.069s | 0.578s |
| 5 | Lewis Hamilton | Mercedes | 1m40.126s | 0.635s |
| 6 | Valtteri Bottas | Mercedes | 1m40.810s | 1.319s |
| 7 | Nico Hulkenberg | Renault | 1m41.013s | 1.522s |
| 8 | Fernando Alonso | McLaren/Honda | 1m41.179s | 1.688s |
| 9 | Stoffel Vandoorne | McLaren/Honda | 1m41.398s | 1.907s |
| 10 | Carlos Sainz | Toro Rosso/Renault | 1m42.056s | 2.565s |
| 11 | Jolyon Palmer | Renault | 1m42.107s | – |
| 12 | Sergio Perez | Force India/Mercedes | 1m42.246s | – |
| 13 | Daniil Kvyat | Toro Rosso/Renault | 1m42.338s | – |
| 14 | Esteban Ocon | Force India/Mercedes | 1m42.760s | – |
| 15 | Romain Grosjean | Haas/Ferrari | 1m43.883s | – |
| 16 | Kevin Magnussen | Haas/Ferrari | 1m43.756s | – |
| 17 | Felipe Massa | Williams/Mercedes | 1m44.014s | – |
| 18 | Lance Stroll | Williams/Mercedes | 1m44.728s | – |
| 19 | Pascal Wehrlein | Sauber/Ferrari | 1m45.059s | – |
| 20 | Marcus Ericsson | Sauber/Ferrari | 1m45.570s | – |