Sebastian Vettel set the pace for Ferrari in second practice for Formula 1's Monaco Grand Prix.
Vettel clocked the fastest ever lap in Monte Carlo with a 1m12.720s to finish 0.487 seconds clear of Red Bull's Daniel Ricciardo.
Mercedes duo Lewis Hamilton and Valtteri Bottas could not replicate the pace shown in first practice and ended the session eighth and 10th respectively.
They started the session on super-softs, but failed to trouble the top of the timesheets when they bolted on the ultra-softs.
Practice was red-flagged with 36 minutes to go when Lance Stroll crashed at Casino Square.
The Williams driver, who was 16th fastest, lost the rear at the top of the hill before sliding into the barrier.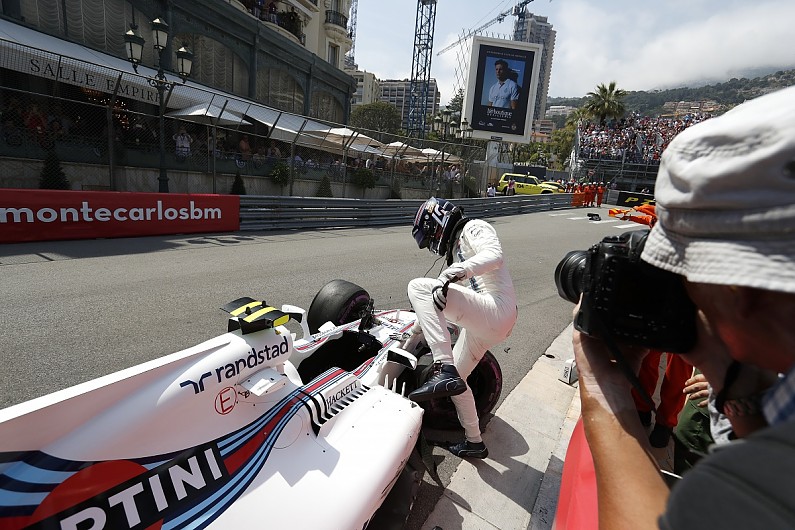 Second practice was a scrappier session than the morning overall, with Esteban Ocon hitting the barrier at the downhill right-hander before Portier.
Marcus Ericsson, who failed to complete a lap time in first practice because of a gearbox problem, nudged the barrier at Casino Square, forcing him to pit.
It was the Toro Rossos that set the early pace, Daniil Kvyat using the ultra-soft for the first time on Thursday to clock a 1m14.031s.
Ricciardo then went quickest on the ultra-softs before Vettel usurped him with his first qualifying-simulation run.
Kimi Raikkonen ended up third fastest, just over half-a-second off the pace with Kvyat just over half a tenth further back.
The other Toro Rosso of Carlos Sainz Jr was fifth to underline the team's pace on the streets of Monte Carlo, ahead of Max Verstappen and Sergio Perez.
Hamilton, Kevin Magnussen and Bottas completed the top 10.
McLaren returnee Jenson Button had another solid session, the Briton clocking the 12th quickest time to finish just 0.035s adrift of team-mate Stoffel Vandoorne.
There was more frustration for Renault, with Nico Hulkenberg ending the session 17th quickest, having failed to set a time at all due to mechanical problems in the morning.
His team-mate Jolyon Palmer pulled off track at Portier early in the session with smoke pouring from the rear of his Renault. He completed just eight laps.
SECOND PRACTICE TIMES:
| POS | DRIVER | CAR | TIME | GAP | LAPS |
| --- | --- | --- | --- | --- | --- |
| 1 | Sebastian Vettel | Ferrari | 1m12.720s | – | 38 |
| 2 | Daniel Ricciardo | Red Bull/Renault | 1m13.207s | 0.487s | 35 |
| 3 | Kimi Raikkonen | Ferrari | 1m13.283s | 0.563s | 46 |
| 4 | Daniil Kvyat | Toro Rosso/Renault | 1m13.331s | 0.611s | 41 |
| 5 | Carlos Sainz | Toro Rosso/Renault | 1m13.400s | 0.680s | 43 |
| 6 | Max Verstappen | Red Bull/Renault | 1m13.486s | 0.766s | 36 |
| 7 | Sergio Perez | Force India/Mercedes | 1m13.799s | 1.079s | 45 |
| 8 | Lewis Hamilton | Mercedes | 1m13.873s | 1.153s | 31 |
| 9 | Kevin Magnussen | Haas/Ferrari | 1m13.890s | 1.170s | 46 |
| 10 | Valtteri Bottas | Mercedes | 1m13.902s | 1.182s | 39 |
| 11 | Stoffel Vandoorne | McLaren/Honda | 1m13.946s | 1.226s | 42 |
| 12 | Jenson Button | McLaren/Honda | 1m13.981s | 1.261s | 37 |
| 13 | Felipe Massa | Williams/Mercedes | 1m14.003s | 1.283s | 46 |
| 14 | Romain Grosjean | Haas/Ferrari | 1m14.022s | 1.302s | 44 |
| 15 | Esteban Ocon | Force India/Mercedes | 1m14.093s | 1.373s | 47 |
| 16 | Lance Stroll | Williams/Mercedes | 1m14.474s | 1.754s | 27 |
| 17 | Nico Hulkenberg | Renault | 1m14.870s | 2.150s | 41 |
| 18 | Jolyon Palmer | Renault | 1m15.616s | 2.896s | 8 |
| 19 | Marcus Ericsson | Sauber/Ferrari | 1m15.691s | 2.971s | 32 |
| 20 | Pascal Wehrlein | Sauber/Ferrari | 1m15.695s | 2.975s | 37 |