Two-time Indianapolis 500 polesitter Ed Carpenter was fastest in the first part of qualifying for next Sunday's race as Fernando Alonso booked his spot in the Fast Nine shootout.
In a session first delayed by bad weather conditions and then disrupted by a huge shunt for Sebastien Bourdais, Carpenter emerged fastest overall for his eponymous team to advance to Sunday's pole position shootout.
Carpenter, who took to the track after Bourdais' crash, was one of only two drivers to clock four laps all over 230mph and recorded a 230.468mph average, putting his Chevrolet-powered Dallara at the head of the field in a session otherwise dominated by Honda runners.
"Call me pessimistic but I've felt better going into qualifying," said Carpenter.
"I thought Will [Power] and I had the fastest Chevys all week, but there were some big numbers going on up there.
"I thought I could run a 230 [mph lap], but I didn't know I could run four of them.
"The balance was really good through the four laps, but it was hard at the end.
"Having a late draw helped today, and I love being in the shootout and to have Chevy in there."
Takuma Sato was fastest of the six Andretti Autosport entries with a 230.382mph average and was second, ahead of 2008 Indy 500 winner Scott Dixon of Chip Ganassi Racing.
JR Hildebrand made it two ECR cars in the top four, with defending Indy 500 winner Alexander Rossi in fifth.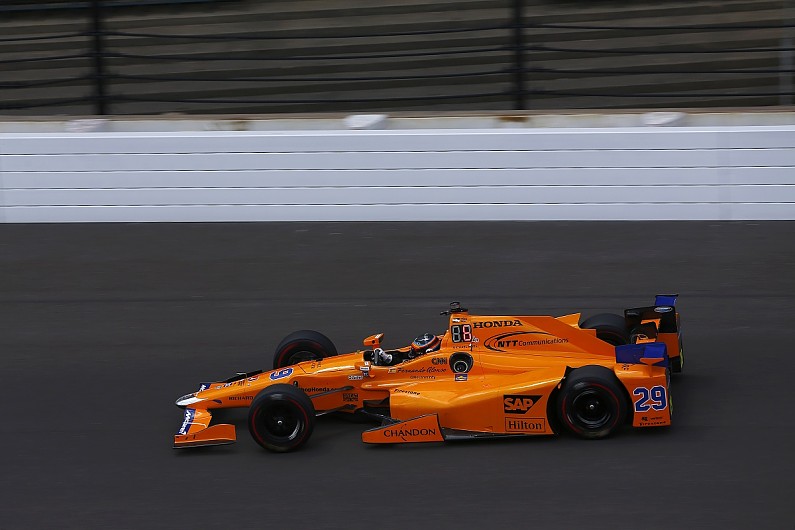 Will Power was the only Penske driver to make it into the Fast Nine, while two-time Formula 1 world champion Alonso was arguably the star performer as he booked his place in Sunday's shootout with two laps over 230mph and a four-lap average of 230.034mph in the McLaren Honda Andretti entry.
Tony Kanaan was eighth with a 230.007mph average, with Marco Andretti the last runner to qualify for the Fast Nine.
Of those outside the top 10, Bourdais' team-mate Ed Jones provided some consolation for Dale Coyne Racing in 10th.
Notable absentees from the Fast Nine, in addition to four of the five Penkse drivers, were Ryan Hunter-Reay and 2016 polesitter James Hinchcliffe.
Zach Veach did not run the third AJ Foyt Racing-Chevrolet, while Bourdais was the only other driver not to record a time – the Frenchman having been fastest of all on his first two laps before his crash.
Should the #18 car take part in next Sunday's showpiece race, whoever drives it will have to start from the back.
SATURDAY QUALIFYING RESULTS:
| POS | DRIVER | TEAM | CAR | SPEED |
| --- | --- | --- | --- | --- |
| 1 | Ed Carpenter | Ed Carpenter Racing | Dallara/Chevrolet | 230.468 |
| 2 | Takuma Sato | Andretti Autosport | Dallara/Honda | 230.382 |
| 3 | Scott Dixon | Chip Ganassi Racing | Dallara/Honda | 230.333 |
| 4 | J.R. Hildebrand | Ed Carpenter Racing | Dallara/Chevrolet | 230.205 |
| 5 | Alexander Rossi | Andretti Herta | Dallara/Honda | 230.148 |
| 6 | Will Power | Team Penske | Dallara/Chevrolet | 230.072 |
| 7 | Fernando Alonso | McLaren-Honda-Andretti | Dallara/Honda | 230.034 |
| 8 | Tony Kanaan | Chip Ganassi Racing | Dallara/Honda | 230.007 |
| 9 | Marco Andretti | Andretti Autosport | Dallara/Honda | 229.924 |
| 10 | Ed Jones | Dale Coyne Racing | Dallara/Honda | 229.717 |
| 11 | Charlie Kimball | Chip Ganassi Racing | Dallara/Honda | 229.713 |
| 12 | Max Chilton | Chip Ganassi Racing | Dallara/Honda | 229.636 |
| 13 | Ryan Hunter-Reay | Andretti Autosport | Dallara/Honda | 229.533 |
| 14 | Helio Castroneves | Team Penske | Dallara/Chevrolet | 229.390 |
| 15 | Mikhail Aleshin | Schmidt Peterson Motorsports | Dallara/Honda | 229.217 |
| 16 | Graham Rahal | Rahal Letterman Lanigan | Dallara/Honda | 228.835 |
| 17 | Josef Newgarden | Team Penske | Dallara/Chevrolet | 228.696 |
| 18 | Juan Pablo Montoya | Team Penske | Dallara/Chevrolet | 228.645 |
| 19 | James Hinchcliffe | Schmidt Peterson Motorsports | Dallara/Honda | 228.557 |
| 20 | Simon Pagenaud | Team Penske | Dallara/Chevrolet | 228.393 |
| 21 | Sage Karam | Dreyer & Reinbold Racing | Dallara/Chevrolet | 227.943 |
| 22 | Jay Howard | Schmidt Peterson Motorsports | Dallara/Honda | 227.853 |
| 23 | Carlos Munoz | A.J. Foyt Enterprises | Dallara/Chevrolet | 227.438 |
| 24 | Oriol Servia | Rahal Letterman Lanigan | Dallara/Honda | 227.150 |
| 25 | Jack Harvey | Michael Shank Racing | Dallara/Honda | 226.894 |
| 26 | Gabby Chaves | Harding Racing | Dallara/Chevrolet | 226.875 |
| 27 | Conor Daly | A.J. Foyt Enterprises | Dallara/Chevrolet | 225.912 |
| 28 | Sebastian Saavedra | Juncos Racing | Dallara/Chevrolet | 225.815 |
| 29 | Spencer Pigot | Juncos Racing | Dallara/Chevrolet | 223.631 |
| 30 | Buddy Lazier | Lazier Racing | Dallara/Chevrolet | 221.427 |
| 31 | Pippa Mann | Dale Coyne Racing | Dallara/Honda | 219.282 |
| – | Sebastien Bourdais | Dale Coyne Racing | Dallara/Honda | 0.000 |