The MotoE World Cup has held its first test, including a simulated qualifying and race at Valencia, since the entire electric bike series paddock was destroyed by fire in March.
The inaugural all-electric MotoE World Cup was due to have its first round at this year's Spanish Grand Prix in May, but a paddock fire destroyed all the bikes and equipment during a pre-season test at Jerez, forcing the campaign's start to be postponed until the German GP in July.
After Italian firm Energica rebuilt all 18 Ego bikes, the series went to Valencia for three days of testing this week.
As well as normal running, the test included a simulation of the qualifying and race formats to be used this year.
MotoE has adopted a superpole format for qualifying, with all 18 riders given just one single flying lap to decide their grid positions.
Tech3's Hector Garzo, who was fastest on the opening day of testing, grabbed pole by 0.025 seconds from Avintia's Eric Granado.
Granado and Garzo were the main factors in the race simulation held on Wednesday morning over seven laps. The pair engaged in a last-lap battle for victory.
Former grand prix rider Granado held the poleman at bay by 1.004s, while Ajo's Niki Tuuli, who qualified third, completed the podium.
While Granado revelled in his victory, Garzo told the official MotoGP website the simulation was proof "we can race with MotoE".
The top five in Wednesday's practice race was completed by 2011 125cc world champion Nico Terol (Nieto), and Gresini's Matteo Ferrari, while MotoGP race winner Sete Gibernau (Pons) rounded out the top 15.
Bradley Smith initially set the best overall pace of the test in the session after the E-pole simulation, with the One Energy Racing rider edging Garzo by 0.094s with a lap of 1m40.290s – which is just 1.8s outside the Moto3 lap record.
But Tuuli would better this in the final session of the test on Wednesday afternoon, to go fastest of all with a 1m40.127s.
Smith did not take part in the race simulation, for which he qualified fourth, having had to return to Barcelona to resume MotoGP testing duties for Aprilia.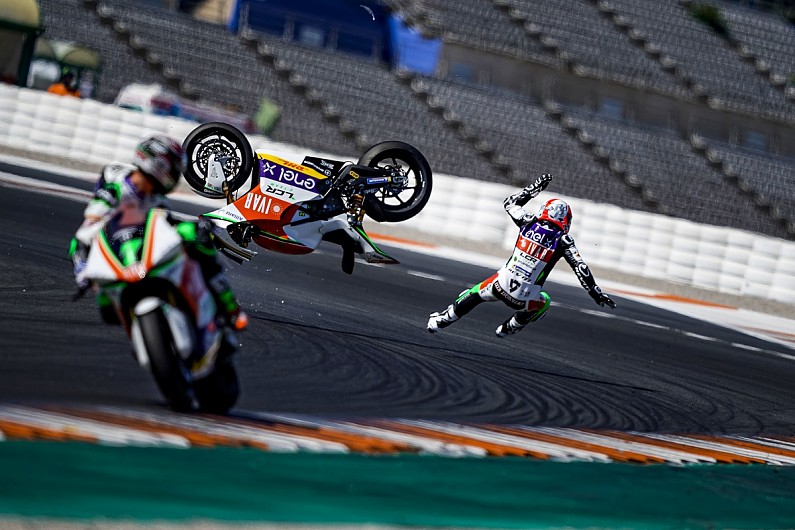 Former LCR rider Randy de Puniet suffered two heavy high-side crashes at Turn 11 on Monday and Tuesday, injuring his ankle and his elbow. He was the only rider not to finish the seven-lap simulation race.
The first race of the season will take place at the Sachsenring on the weekend of July 5-7, with the second round coming during the Austrian Grand Prix weekend of August 9-11.
The final two rounds at Misano in September and the Valencia season-finale in November will feature two races.