The final entry list for the 2017 Le Mans 24 Hours has been published.
Three drivers have now been announced for all but one of the 60 cars on the entry for the double-points round of the World Endurance Championship on June 17/18.
Teams have now been required to nominate the three drivers for each car, although changes remain possible.
The only team not to confirm three drivers is Proton Competition, which has yet to name a team-mate for Le Mans debutants Nick Yelloly and Stephane Lemeret in the #88 Porsche 911 RSR entered in GTE Am.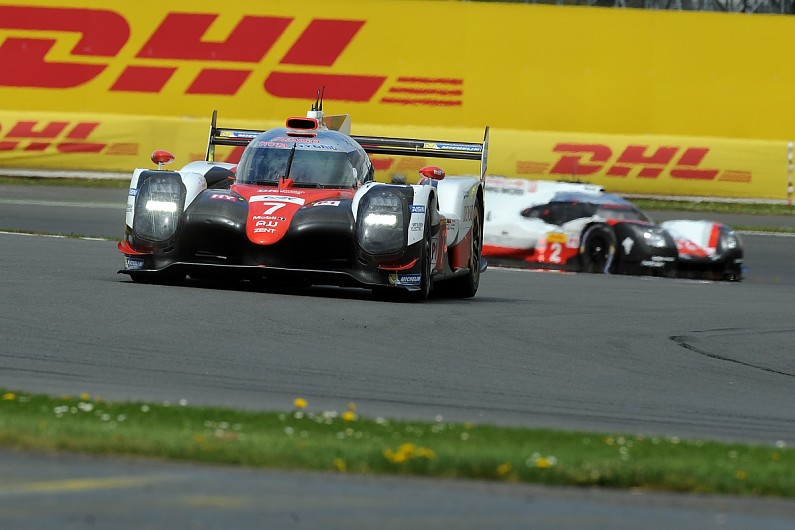 The publication follows Toyota's news that it has reshuffled its line-up by swapping Jose Maria Lopez and Stephane Sarrazin between its #7 and #9 entries.
The decision followed the lack of racing laps for Lopez as a result of his crash at the Silverstone WEC opener in April and the resulting injuries that ruled him out of the Spa round earlier this month.
One reserve is listed, a fourth GTE Am class Porsche entered by Proton.
2017 LE MANS ENTRY LIST
No. Class    Team                       Car                      Drivers
1   LMP1     Porsche LMP Team           Porsche 919 Hybrid       Neel Jani/Andre Lotterer/Nick Tandy
2   LMP1     Porsche LMP Team           Porsche 919 Hybrid       Timo Bernhard/Earl Bamber/Brendon Hartley
4   LMP1     Bykolles Racing Team       Enso CLM P1/01-NISMO     Oliver Webb/Dominik Kraihamer/James Rossiter
7   LMP1     Toyota Gazoo Racing        Toyota TS050-Hybrid      Mike Conway/Kamui Kobayashi/Stephane Sarrazin
8   LMP1     Toyota Gazoo Racing        Toyota TS050-Hybrid      Sebastien Buemi/Anthony Davidson/Kazuki Nakajima
9   LMP1     Toyota Gazoo Racing        Toyota TS050-Hybrid      Nicolas Lapierre/Yuji Kunimoto/Jose Maria Lopez
13  LMP2     Vaillante Rebellion        ORECA 07-Gibson          Nelson Piquet Jr/David Heinemeier Hansson/Mathias Beche
17  LMP2     IDEC Sport Racing          Ligier JSP217-Gibson     Patrice Lafargue/Paul Lafargue/David Zollinger
21  LMP2     Dragonspeed-10 Star        ORECA 07-Gibson          Henrik Hedman/Ben Hanley/Felix Rosenqvist
22  LMP2     G-Drive Racing             ORECA 07-Gibson          Memo Rojas/Ryo Hirakawa/Jose Gutierrez
23  LMP2     Panis Barthez Competition  Ligier JSP217-Gibson     Fabien Barthez/Timothe Buret/Nathanael Berthon
24  LMP2     CEFC Manor TRS Team China  ORECA 07-Gibson          Tor Graves/Jonathan Hirschi/Jean-Eric Vergne
25  LMP2     CEFC Manor TRS Team China  ORECA 07-Gibson          Roberto Gonzalez/Simon Trummer/Vitaly Petrov
26  LMP2     G-Drive Racing             ORECA 07-Gibson          Roman Rusinov/Pierre Thiriet/Alex Lynn
27  LMP2     SMP Racing                 Dallara P217-Gibson      Mikhail Aleshin/Sergey Sirotkin/Victor Shaytar
28  LMP2     TDS Racing                 ORECA 07-Gibson          Francois Perrodo/Matthieu Vaxiviere/Emmanuel Collard
29  LMP2     Racing Team Nederland      Dallara P217-Gibson      Jan Lammers/Frits Van Eerd/Rubens Barrichello
31  LMP2     Vaillante Rebellion        ORECA 07-Gibson          Nicolas Prost/Julien Canal/Bruno Senna
32  LMP2     United Autosports          Ligier JSP217-Gibson     William Owen/Hugo de Sadeleer/Filipe Albuquerque
33  LMP2     Eurasia Motorsport         Ligier JSP217-Gibson     Jacques Nicolet/Pierre Nicolet/Erik Maris
34  LMP2     Tockwith Motorsports       Ligier JSP217-Gibson     Nigel Moore/Phil Hanson/Karun Chandhok
35  LMP2     Signatech Alpine Matmut    Alpine A470-Gibson       Nelson Panciatici/Pierre Ragues/Andre Negrao
36  LMP2     Signatech Alpine Matmut    Alpine A470-Gibson       Romain Dumas/Gustavo Menezes/Matthew Rao
37  LMP2     Jackie Chan DC Racing      ORECA 07-Gibson          David Cheng/Tristan Gommendy/Alex Brundle
38  LMP2     Jackie Chan DC Racing      ORECA 07-Gibson          Ho-Pin Tung/Thomas Laurent/Oliver Jarvis
39  LMP2     Graff                      ORECA 07-Gibson          Enzo Guibbert/Eric Trouillet/James Winslow
40  LMP2     Graff                      ORECA 07-Gibson          James Allen/Frank Matelli/Richard Bradley
43  LMP2     Keating Motorsports        Riley MK30-Gibson        Ben Keating/Jeroen Bleekemolen/Ricky Taylor
45  LMP2     Algarve Pro Racing         Ligier JSP217-Gibson     Mark Patterson/Matthew McMurry/Vincent Capillaire
47  LMP2     Cetilar Villorba Corse     Dallara P217-Gibson      Roberto Lacorte/Giorgio Sernagiotto/Andrea Belicchi
49  LMP2     ARC Bratislava             Ligier JSP217-Gibson     Miroslav Konopka/Konstantins Calko/Rik Breukers
51  GTE Pro  AF Corse                   Ferrari 488 GTE          James Calado/Alessandro Pier Guidi/Lucas di Grassi
63  GTE Pro  Corvette Racing-GM         Chevrolet Corvette C7.R  Jan Magnussen/Antonio Garcia/Jordan Taylor
64  GTE Pro  Corvette Racing-GM         Chevrolet Corvette C7.R  Oliver Gavin/Tommy Milner/Marcel Fassler
66  GTE Pro  Ford Chip Ganassi Team UK  Ford GT                  Stefan Mucke/Olivier Pla/Billy Johnson
67  GTE Pro  Ford Chip Ganassi Team UK  Ford GT                  Andy Priaulx/Harry Tincknell/Pipo Derani
68  GTE Pro  Ford Chip Ganassi Team UK  Ford GT                  Joey Hand/Dirk Muller/Sebastien Bourdais
69  GTE Pro  Ford Chip Ganassi Team UK  Ford GT                  Ryan Briscoe/Richard Westbrook/Scott Dixon
71  GTE Pro  AF Corse                   Ferrari 488 GTE          Davide Rigon/Sam Bird/Miguel Molina
82  GTE Pro  Risi Competizione          Ferrari 488 GTE          Toni Vilander/Giancarlo Fisichella/Pierre Kaffer
91  GTE Pro  Porsche GT Team            Porsche 911 RSR          Richard Lietz/Frederic Makowiecki/Patrick Pilet
92  GTE Pro  Porsche GT Team            Porsche 911 RSR          Michael Christensen/Kevin Estre/Dirk Werner
95  GTE Pro  Aston Martin Racing        Aston Martin Vantage     Nicki Thiim/Marco Sorensen/Richie Stanaway
97  GTE Pro  Aston Martin Racing        Aston Martin Vantage     Darren Turner/Jonny Adam/Daniel Serra
50  GTE Am   Larbre Competition         Chevrolet Corvette C7.R  Fernando Rees/Romain Brandela/Christian Philippon
54  GTE Am   Spirit of Race             Ferrari 488 GTE          Thomas Flohr/Francesco Castellacci/Olivier Beretta
55  GTE Am   Spirit of Race             Ferrari 488 GTE          Duncan Cameron/Aaron Scott/Marco Cioci
60  GTE Am   Clearwater Racing          Ferrari 488 GTE          Richard Wee/Hiroki Katoh/Alvaro Parente
61  GTE Am   Clearwater Racing          Ferrari 488 GTE          Weng Sun Mok/Keita Sawa/Matt Griffin
62  GTE Am   Scuderia Corsa             Ferrari 488 GTE          Cooper MacNeil/Bill Sweedler/Townsend Bell
65  GTE Am   Scuderia Corsa             Ferrari 488 GTE          Christina Nielsen/Alessandro Balzan/Curtis Bret
77  GTE Am   Dempsey-Proton Racing      Porsche 911 RSR (991)    Christian Ried/Matteo Cairoli/Marvin Dienst
83  GTE Am   DH Racing                  Ferrari 488 GTE          Tracy Krohn/Niclas Jonsson/Andrea Bertolini
84  GTE Am   JMW Motorsport             Ferrari 488 GTE          Robert Smith/Will Stevens/Dries Vanthoor
86  GTE Am   Gulf Racing                Porsche 911 RSR (991)    Michael Wainwright/Ben Barker/Nicholas Foster
88  GTE Am   Proton Competition         Porsche 911 RSR (991)    Nick Yelloly/Stephane Lemeret/TBA
90  GTE Am   TF Sport                   Aston Martin Vantage     Salih Yoluc/Euan Hankey/Rob Bell
93  GTE Am   Proton Competition         Porsche 911 RSR (991)    Patrick Long/Abdulaziz Turki Al Faisal/Michael Hedlund
98  GTE Am   Aston Martin Racing        Aston Martin Vantage     Paul Dalla Lana/Pedro Lamy/Mathias Lauda
99  GTE Am   Aston Martin Racing        Aston Martin Vantage     Andrew Howard/Ross Gunn/Oliver Bryant

Reserve:
94  GTE Am   Mentos-Proton Racing       Porsche 911 RSR (911)    Egidio Perfetti/TBA/TBA