Hendrick Motorsports' Chase Elliott scored his and Chevrolet's first win of the NASCAR Cup Series season at Talladega in a race blighted by two big accidents.
As the Chevrolet runners grouped together in their green-flag pit strategy, Elliott was able to rise from 13th on the grid to take fourth in stage one, before going on to win the second 55-lapper.
With the Ford and Toyota teams pitting a lap after their rivals, Elliott was able to cycle to the lead of the pack, and engage in a slipstreaming battle with the likes of Ricky Stenhouse Jr's Roush Fenway Racing machine and Joe Gibbs Racing's Kyle Busch.
This continued until lap 182 of 188, when the race was red-flagged following a violent accident involving Chris Buescher's JTG Daugherty Racing car and Matt DiBenedetto of Leavine Family Racing.
The #37 of Buescher was tipped into the outside wall by the Stewart-Haas Ford of Aric Almirola, and was subsequently rammed broadside by DiBenedetto, with Buescher's car riding over the top of the #95 Toyota.
Martin Truex Jr and Justin Haley were also involved, with the 2017 champion being the only one able to take the restart.
After a short delay, racing resumed, with Elliott in fifth place and reigning champion Joey Logano leading.
Elliott hit the front with three laps to go, before a caution on the final lap secured his victory as Kyle Larson's #42 Chip Ganassi Chevrolet somersaulted on the infield.
Larson and Jeffrey Earnhardt had been fired across the track as William Byron rebounded into them after being tapped into the wall, with Larson's car then becoming airborne.
All the drivers involved managed to extricate themselves from their car.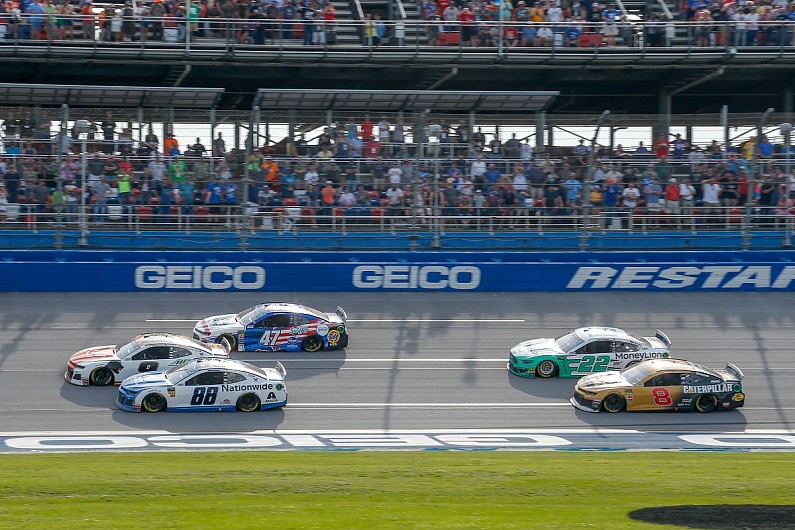 Elliott's Hendrick team-mate Alex Bowman took second, as rookie Ryan Preece made it a Chevrolet 1-2-3 by taking third for JTG Daugherty.
Daniel Hemric was fourth for Richard Childress Racing, ahead of Logano, who led 37 laps – the second highest after Elliott's 44.
Kurt Busch (Chip Ganassi), Ryan Newman (Roush Fenway) Brendan Gaughan, Almirola and Kyle Busch (the leading Toyota runner) rounded out the top 10.
Stage one fell to German Racing underdog Ty Dillion, who was able to save fuel after an early caution to narrowly pip Bowman.
That caution was caused by Darrell Wallace Jr spinning and sending Michael McDowell into the wall, with Kevin Harvick and Denny Hamlin also unable to continue much further having sustained heavy damage in the ensuing pile-up.
Race results
| POS | DRIVER | TEAM | CAR | LAPS |
| --- | --- | --- | --- | --- |
| 1 | Chase Elliott | Hendrick Motorsports | Chevrolet | 188 |
| 2 | Alex Bowman | Hendrick Motorsports | Chevrolet | 188 |
| 3 | Ryan Preece | JTG Daugherty Racing | Chevrolet | 188 |
| 4 | Joey Logano | Team Penske | Ford | 188 |
| 5 | Daniel Hemric | Richard Childress Racing | Chevrolet | 188 |
| 6 | Kurt Busch | Chip Ganassi Racing | Chevrolet | 188 |
| 7 | Ryan Newman | Roush Fenway Racing | Ford | 188 |
| 8 | Brendan Gaughan | Beard Motorsports | Chevrolet | 188 |
| 9 | Aric Almirola | Stewart-Haas Racing | Ford | 188 |
| 10 | Kyle Busch | Joe Gibbs Racing | Toyota | 188 |
| 11 | Corey LaJoie | Go FAS Racing | Ford | 188 |
| 12 | Daniel Suarez | Stewart-Haas Racing | Ford | 188 |
| 13 | Brad Keselowski | Team Penske | Ford | 188 |
| 14 | Austin Dillon | Richard Childress Racing | Chevrolet | 188 |
| 15 | Ryan Blaney | Team Penske | Ford | 188 |
| 16 | Paul Menard | Wood Brothers Racing | Ford | 188 |
| 17 | Ty Dillon | Germain Racing | Chevrolet | 188 |
| 18 | Reed Sorenson | Premium Motorsports | Chevrolet | 188 |
| 19 | Erik Jones | Joe Gibbs Racing | Toyota | 188 |
| 20 | Martin Truex Jr. | Joe Gibbs Racing | Toyota | 188 |
| 21 | William Byron | Hendrick Motorsports | Chevrolet | 188 |
| 22 | Jeffrey Earnhardt | XCI Racing | Toyota | 187 |
| 23 | David Ragan | Front Row Motorsports | Ford | 187 |
| 24 | Kyle Larson | Chip Ganassi Racing | Chevrolet | 187 |
| 25 | Ricky Stenhouse Jr. | Roush Fenway Racing | Ford | 187 |
| 26 | Ross Chastain | Premium Motorsports | Chevrolet | 187 |
| 27 | Parker Kligerman | Gaunt Brothers Racing | Toyota | 186 |
| 28 | Cody Ware | Petty Ware Racing | Chevrolet | 184 |
| 29 | Clint Bowyer | Stewart-Haas Racing | Ford | 182 |
| 30 | Chris Buescher | JTG Daugherty Racing | Chevrolet | 181 |
| 31 | Matt DiBenedetto | Leavine Family Racing | Toyota | 181 |
| 32 | J.J. Haley | Spire Motorsports | Chevrolet | 180 |
| 33 | Jimmie Johnson | Hendrick Motorsports | Chevrolet | 178 |
| 34 | Landon Cassill | StarCom Racing | Chevrolet | 154 |
| 35 | Stanton Barrett | Rick Ware Racing | Chevrolet | 132 |
| 36 | Denny Hamlin | Joe Gibbs Racing | Toyota | 80 |
| 37 | Matt Tifft | Front Row Motorsports | Ford | 11 |
| 38 | Kevin Harvick | Stewart-Haas Racing | Ford | 11 |
| 39 | Darrell Wallace Jr. | Richard Petty Motorsports | Chevrolet | 10 |
| 40 | Michael McDowell | Front Row Motorsports | Ford | 10 |
Drivers' standings
| POS | DRIVER | POINTS |
| --- | --- | --- |
| 1 | Kyle Busch | 430 |
| 2 | Joey Logano | 415 |
| 3 | Denny Hamlin | 367 |
| 4 | Kevin Harvick | 350 |
| 5 | Brad Keselowski | 337 |
| 6 | Martin Truex Jr. | 328 |
| 7 | Chase Elliott | 324 |
| 8 | Kurt Busch | 323 |
| 9 | Ryan Blaney | 306 |
| 10 | Clint Bowyer | 288 |
| 11 | Aric Almirola | 288 |
| 12 | Daniel Suarez | 266 |
| 13 | Austin Dillon | 253 |
| 14 | Ryan Newman | 251 |
| 15 | Alex Bowman | 239 |
| 16 | Jimmie Johnson | 238 |
| 17 | Paul Menard | 234 |
| 18 | Erik Jones | 230 |
| 19 | William Byron | 226 |
| 20 | Ricky Stenhouse Jr. | 223 |
| 21 | Kyle Larson | 221 |
| 22 | Ty Dillon | 202 |
| 23 | Chris Buescher | 174 |
| 24 | Ryan Preece | 160 |
| 25 | Matt DiBenedetto | 149 |
| 26 | Daniel Hemric | 132 |
| 27 | David Ragan | 123 |
| 28 | Darrell Wallace Jr. | 111 |
| 29 | Corey LaJoie | 107 |
| 30 | Michael McDowell | 95 |
| 31 | Matt Tifft | 81 |
| 32 | Reed Sorenson | 26 |
| 33 | Jamie McMurray | 19 |
| 34 | Quin Houff | 15 |
| 35 | Stanton Barrett | 2 |
| 36 | Casey Mears | 1 |
| 37 | Brendan Gaughan | 0 |
| 38 | Ross Chastain | 0 |
| 39 | Parker Kligerman | 0 |
| 40 | B.J. McLeod | 0 |
| 41 | Jeffrey Earnhardt | 0 |
| 42 | Landon Cassill | 0 |
| 43 | Tyler Reddick | 0 |
| 44 | Cody Ware | 0 |
| 45 | Bayley Currey | 0 |
| 46 | Jeb Burton | 0 |
| 47 | Garrett Smithley | 0 |
| 48 | D.J. Kennington | 0 |
| 49 | J.J. Haley | 0 |
| 50 | Joey Gase | 0 |
| 51 | Timmy Hill | 0 |
| 52 | Gray Gaulding | 0 |
| 53 | Ryan Truex | 0 |