Mick Schumacher became the first driver of 2018 to complete a Formula 3 European Championship weekend hat-trick with another supreme performance in the Nurburgring finale.
Schumacher had to dart across to protect the inside line from the sister Prema Powerteam Dallara-Mercedes of Robert Shwartzman on the run to Turn 1 but, as he has done all weekend, showed crucial superiority over the Russian on cold tyres to build a 1.2-second lead by the end of lap one.
From then on Schumacher continued to extend his advantage by incremental margins, finally taking the chequered flag 4.9s clear of Ferrari protege Shwartzman, who in turn took his third runner-up position of the weekend.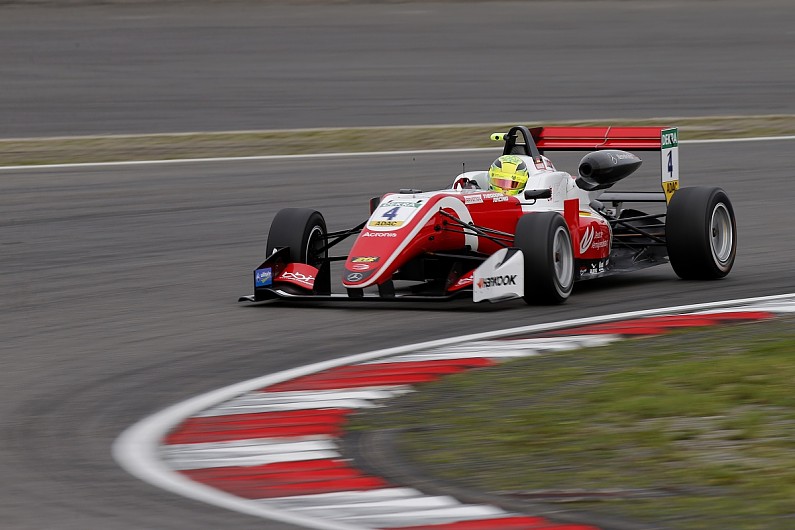 Unlike in races one and two, when it was Dan Ticktum who was the closest challenger to the dominant Prema duo, this time it was Alex Palou who posed the biggest threat.
Ticktum had run very wide at Turn 1 in his Motopark car, and was then very tight at Turn 3, running wide again on the exit and allowing Palou into third.
Hitech GP driver Palou put pressure on Shwartzman at various stages of the race, but never got into a position to pose a serious threat.
Ticktum dropped back in fourth, and is now just three points clear of Schumacher at the top of the championship standings with two rounds remaining.
Marcus Armstrong was a race-long fifth in his Prema car, while Motopark's Juri Vips at last got some points on the board for the weekend with sixth place.
Eighth qualifier Vips got ahead of Ralf Aron at the start, and then took advantage of Sacha Fenestraz challenging Armstrong at the beginning of the third lap to pass the Frenchman for sixth.
Carlin man Fenestraz was seventh from Aron (Prema), Enaam Ahmed (Hitech) and Guan Yu Zhou (Prema) in a rather uneventful race.
Race result
| POS | DRIVER | TEAM | CAR | LAPS | GAP |
| --- | --- | --- | --- | --- | --- |
| 1 | Mick Schumacher | PREMA Theodore Racing | Dallara/Mercedes | 25 | 34m25.147s |
| 2 | Robert Shwartzman | PREMA Theodore Racing | Dallara/Mercedes | 25 | 4.985s |
| 3 | Alex Palou | Hitech Bullfrog GP | Dallara/Mercedes | 25 | 5.732s |
| 4 | Dan Ticktum | Motopark | Dallara/Volkswagen | 25 | 8.012s |
| 5 | Marcus Armstrong | PREMA Theodore Racing | Dallara/Mercedes | 25 | 8.950s |
| 6 | Juri Vips | Motopark | Dallara/Volkswagen | 25 | 10.656s |
| 7 | Sacha Fenestraz | Carlin | Dallara/Volkswagen | 25 | 14.374s |
| 8 | Ralf Aron | PREMA Theodore Racing | Dallara/Mercedes | 25 | 18.416s |
| 9 | Enaam Ahmed | Hitech Bullfrog GP | Dallara/Mercedes | 25 | 20.764s |
| 10 | Guan Yu Zhou | PREMA Theodore Racing | Dallara/Mercedes | 25 | 21.326s |
| 11 | Ferdinand Habsburg | Carlin | Dallara/Volkswagen | 25 | 24.672s |
| 12 | Jonathan Aberdein | Motopark | Dallara/Volkswagen | 25 | 25.953s |
| 13 | Jehan Daruvala | Carlin | Dallara/Volkswagen | 25 | 27.682s |
| 14 | Fabio Scherer | Motopark | Dallara/Volkswagen | 25 | 31.707s |
| 15 | Keyvan Andres | Van Amersfoort Racing | Dallara/Mercedes | 25 | 32.514s |
| 16 | Sebastian Fernandez | Motopark | Dallara/Volkswagen | 25 | 35.371s |
| 17 | Artem Petrov | Van Amersfoort Racing | Dallara/Mercedes | 25 | 36.569s |
| 18 | Marino Sato | Motopark | Dallara/Volkswagen | 25 | 43.664s |
| 19 | Nikita Troitskiy | Carlin | Dallara/Volkswagen | 25 | 45.100s |
| 20 | Ben Hingeley | Hitech Bullfrog GP | Dallara/Mercedes | 25 | 45.661s |
| 21 | Sophia Florsch | Van Amersfoort Racing | Dallara/Mercedes | 25 | 55.348s |
| – | Ameya Vaidyanathan | Carlin | Dallara/Volkswagen | 11 | Retirement |