Mitch Evans hopes to win "multiple championships" in Formula E following his disappointment at not claiming the GP2 crown.
Evans moved to FE with Jaguar for the manufacturer's debut season in 2016/17 after four seasons in what was GP2, which has since been renamed Formula 2.
He secured five wins and 13 further podiums, but his best championship finish was fourth in 2014. Evans explained that his "main focus" is now on turning Jaguar into a contender for regular FE podiums, race wins and titles.
"[I'm] trying to get to a point where I can win multiple championships in Formula E," Evans told Autosport.
"I didn't achieve that in GP2, which I was really gutted about.
"I won a few races in GP2 and since then it has been a bit slow, but that's my main focus: putting myself in a position with the team to be fighting for championships and ensuring a lot of success together, because ultimately that's what we want to do.
"That's what gets me out of bed every day."
After finishing 14th in the drivers' standings in 2016/17 in a tough first season in FE for Jaguar, Evans was seventh overall in season five and claimed the team's first podium – after Daniel Abt was disqualified in Hong Kong – and pole position, which came in Zurich (pictured below).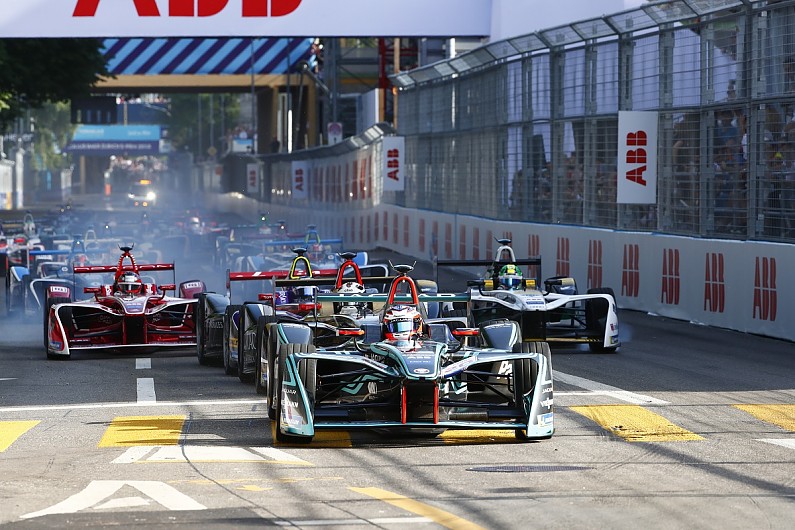 Evans admitted that racing in Formula 1 was his "childhood dream", but said he does not plan to use FE as a step to graduate to grand prix racing, particularly with the high level of interest in the electric championship from manufacturers and drivers.
"My full focus is on Formula E at the moment," said Evans.
"I see the championship growing a lot and I want to grow with it [and] with the team.
"I see myself here and there are queues of drivers trying to get into every team now, so I think one big thing is trying to save your seat and staying in the championship
"That is something that is only going to come by performing.
"For sure the cars are fascinating [in F1]. They're so quick and obviously the reach the championship gets is amazing compared to Formula E, but it is very hard to compare them at the moment.
"I don't see it as a stepping stone, no-one has done that step and whether it happens, I'm not sure.
"I just really want to succeed in FE and [then] see where that leads me."