Richie Stanaway is looking forward to a busy year of racing which sees him moving up a rung on the motorsport ladder to GP2 – just one below Formula One.
But before he makes his GP2 debut, he tonight contests the first round of the FIA World Endurance Championship at Silverstone.
Long one of New Zealand's quickest and most consistent drivers, Stanaway is heading into 2015 with a typically packed schedule. He will juggle driving duties between Aston Martin Racing – for whom he'll be racing tonight – and Status GP.
They're the same teams he raced for last year but in recent months, the 23-year-old has taken a big step up. With Aston Martin, he's scored a season-long ride and joined the big guns in the GTE Pro category, while the Status drive could potentially turn into something even bigger.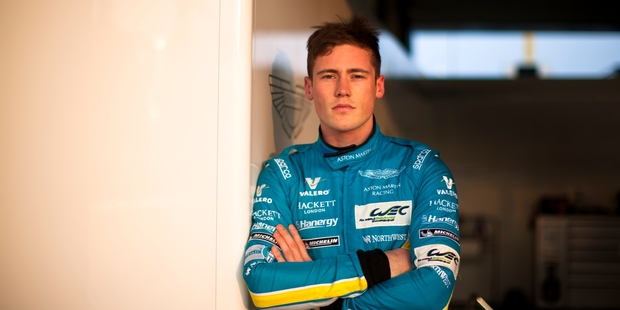 Although he doesn't yet have a long-term contract, Stanaway has joined his old GP3 team and made the leap into the tough, ultra-competitive world of GP2.
Though a range of factors come into the equation, Formula One, the pinnacle of motorsport, is now potentially one good season away. Not that he's focusing on that just yet.
"Yeah, it's quite a step up," says Stanaway of GP2. "There's a lot more power and downforce, so there's that to get used to. But the hardest thing is the step up in the level of competition.
"In GP3, there are younger drivers with less experience, whereas in GP2, it's more older guys who are all pretty good. So it's not so much the step up in car that's the problem, it's more the step up in the level of drivers. It's harder to get good results near the top of the ladder than it is one step down."
For now, he's competing on a race-by-race basis, but if his pace in pre-season testing is anything to go by, he could be sticking around a while. Consistently quicker than his team-mate, he also topped a testing session last month at Abu Dhabi.
He'll also be racing against fellow New Zealander Mitch Evans, who last year finished fourth in GP2 with two wins and four other podium finishes in a 22-race season.
"For sure, it'll be cool to race against him," Stanaway says. "Of course the main priority for me is trying to secure a full season, since it wouldn't do to have a couple of races and not a full season. But, yeah, it's pretty cool that there's a couple of New Zealanders in there."
Evans won't be the only New Zealander he'll race this year. Brendon Hartley, whose Porsche team have been impressive in pre-season testing, will also be competing in the World Endurance Championship.
While this will be Stanaway's third season with Aston Martin Racing, it will be his first as an official full-time driver. He's been teamed with Alex Macdowall and Fernando Rees, two stalwarts of international sportscar racing. Given the fickle nature of his GP2 arrangement, it must be a relief to have secured a full-time drive.
"Yeah, it's great to be competing with Aston again," he says. "It's nice to make the step up and fight for the overall class victory. Plus, it doesn't hurt to have team-mates with experience."
A lot of Aston Martin's pre-season testing took place at Germany's famous Nurburgring circuit. Long, winding and still potentially dangerous, driving it in a powerful sportscar is the stuff of many a young racing driver's dream.
"It's quite hair-raising," he says. "I've never really got as much of an adrenaline rush from a track as I got there. It's still a huge risk to drive around, so to do well and set quick times is quite rewarding. Driving the Aston around there is the best track-car combo I've ever experienced."
To top it off, Stanaway has been doing simulator work for the Williams Formula One team. With extensive bans on testing in Formula One, simulator work has largely replaced the track days of yesteryear.
"It's a challenge because the feedback I deliver has to be of the highest standard, since it's obviously the highest level of motorsport," he says.
"It's also a valuable environment to be in. You get to learn not only from the drivers but especially from the engineers, who tend to come from top universities around the world. It's a great experience."
A tentative GP2 deal, a solid contract with a leading sportscar team and a testing gig with Williams – if the young Kiwi's start to the year is anything to go by, 2015 could turn out to be something special.