Alexander Rossi took his first IndyCar victory since his 2016 Indianapolis 500 triumph, as Josef Newgarden's championship lead was slashed by a pitlane crash at Watkins Glen.
Newgarden smacked the pit exit wall at the final stops and was then hit by Sebastien Bourdais, causing rear suspension damage.
A long stop for repairs left Newgarden two laps down in 18th, with Scott Dixon's second place reducing his lead to just three points heading into the double-points finale at Sonoma in a fortnight.
Polesitter Rossi dominated much of the race despite the disruption of a fuel pump problem and the whole field pitting for slicks at the end of lap one having started on wets on what turned out to be a nearly-dry track.
Rossi received just a fraction of the fuel required when he pitted under a caution caused by Andretti Autosport team-mate Takuma Sato slowing with a turbo problem on lap 15 of the 60-lap race.
Andretti brought Rossi in again from the lead nine laps later for a full fuel load, putting him out of sequence and down the field.
But he cycled back to the front within three laps when Sato's delayed car spun and triggered another caution under which everyone else pitted.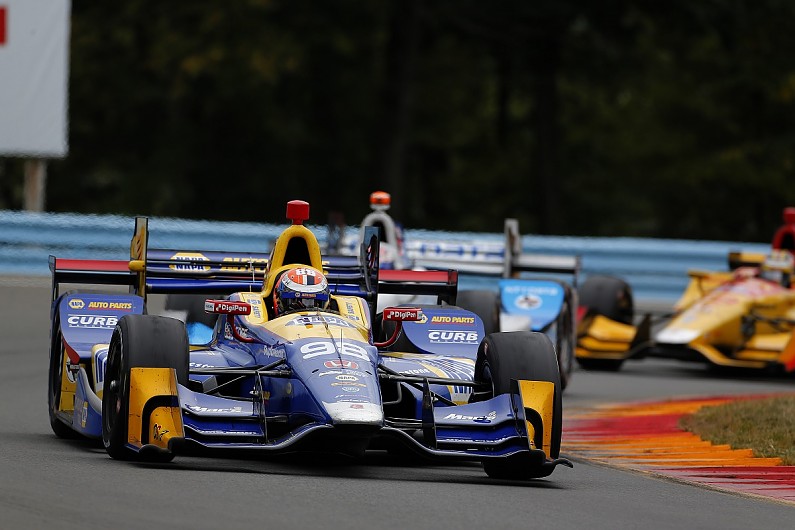 Once back in first place, Rossi turned up the wick and led by as much as 12 seconds during the next stint.
Newgarden was back in eighth in the middle of the race, demoted by drivers out of sequence benefiting from yellow timing as Rossi had.
He moved into a temporary lead by staying out late for his final stop, only to crash in the pit exit.
Bourdais and Tony Kanaan were also caught out in the resulting shunt, which triggered the final yellow.
Rossi was able to keep Dixon at bay for the subsequent 11-lap run to the flag and cap a weekend that had begun with a new Andretti Autosport deal with his first IndyCar win on a road course.
Ryan Hunter-Reay made it two Andretti cars on the podium after a strong race that included some assertive moves in the opening laps.
Helio Castroneves kept his own title hopes alive with fourth, having out-duelled Rossi to lead for a spell in the first part of the race before a slow pitstop dropped him back.
Graham Rahal had a quiet race for Rahal Letterman Lanigan in fifth.
Sixth kept Will Power mathematically in the title hunt but he struggled with a semi-wet set-up all race and just fended off Charlie Kimball, who salvaged seventh despite two off-road excursions.
Kimball's Ganassi team-mate Max Chilton resisted reigning champion Simon Pagenaud and AJ Foyt Racing duo Carlos Munoz and Conor Daly for eighth.
Race result
| POS | DRIVER | TEAM | CAR | LAPS | GAP |
| --- | --- | --- | --- | --- | --- |
| 1 | Alexander Rossi | Andretti Herta | Dallara/Honda | 60 | 1h42m03.9024s |
| 2 | Scott Dixon | Chip Ganassi Racing | Dallara/Honda | 60 | 0.9514s |
| 3 | Ryan Hunter-Reay | Andretti Autosport | Dallara/Honda | 60 | 7.1592s |
| 4 | Helio Castroneves | Team Penske | Dallara/Chevrolet | 60 | 8.8938s |
| 5 | Graham Rahal | Rahal Letterman Lanigan | Dallara/Honda | 60 | 11.8863s |
| 6 | Will Power | Team Penske | Dallara/Chevrolet | 60 | 15.3787s |
| 7 | Charlie Kimball | Chip Ganassi Racing | Dallara/Honda | 60 | 16.1639s |
| 8 | Max Chilton | Chip Ganassi Racing | Dallara/Honda | 60 | 28.0410s |
| 9 | Simon Pagenaud | Team Penske | Dallara/Chevrolet | 60 | 28.2941s |
| 10 | Carlos Munoz | AJ Foyt Enterprises | Dallara/Chevrolet | 60 | 29.4972s |
| 11 | Conor Daly | AJ Foyt Enterprises | Dallara/Chevrolet | 60 | 30.2436s |
| 12 | Spencer Pigot | Ed Carpenter Racing | Dallara/Chevrolet | 60 | 32.3478s |
| 13 | Ed Jones | Dale Coyne Racing | Dallara/Honda | 60 | 33.1533s |
| 14 | Jack Harvey | Schmidt Peterson Motorsports | Dallara/Honda | 60 | 35.6826s |
| 15 | J.R. Hildebrand | Ed Carpenter Racing | Dallara/Chevrolet | 60 | 41.5905s |
| 16 | Marco Andretti | Andretti Autosport | Dallara/Honda | 60 | 52.7948s |
| 17 | Sebastien Bourdais | Dale Coyne Racing | Dallara/Honda | 60 | 54.0444s |
| 18 | Josef Newgarden | Team Penske | Dallara/Chevrolet | 58 | 2 Laps |
| 19 | Takuma Sato | Andretti Autosport | Dallara/Honda | 56 | 4 Laps |
| 20 | Tony Kanaan | Chip Ganassi Racing | Dallara/Honda | 46 | Contact |
| 21 | James Hinchcliffe | Schmidt Peterson Motorsports | Dallara/Honda | 5 | Mechanical |
Drivers' standings
| POS | DRIVER | POINTS |
| --- | --- | --- |
| 1 | Josef Newgarden | 560 |
| 2 | Scott Dixon | 557 |
| 3 | Helio Castroneves | 538 |
| 4 | Simon Pagenaud | 526 |
| 5 | Will Power | 492 |
| 6 | Alexander Rossi | 476 |
| 7 | Graham Rahal | 466 |
| 8 | Takuma Sato | 421 |
| 9 | Tony Kanaan | 375 |
| 10 | Ryan Hunter-Reay | 373 |
| 11 | James Hinchcliffe | 360 |
| 12 | Max Chilton | 360 |
| 13 | Marco Andretti | 336 |
| 14 | Ed Jones | 332 |
| 15 | J.R. Hildebrand | 315 |
| 16 | Carlos Munoz | 298 |
| 17 | Charlie Kimball | 289 |
| 18 | Conor Daly | 264 |
| 19 | Mikhail Aleshin | 237 |
| 20 | Spencer Pigot | 184 |
| 21 | Sebastien Bourdais | 170 |
| 22 | Ed Carpenter | 169 |
| 23 | Gabby Chaves | 98 |
| 24 | Juan Pablo Montoya | 93 |
| 25 | Esteban Gutierrez | 91 |
| 26 | Sebastian Saavedra | 80 |
| 27 | Oriol Servia | 61 |
| 28 | Fernando Alonso | 47 |
| 29 | Jack Harvey | 33 |
| 30 | Pippa Mann | 32 |
| 31 | Jay Howard | 24 |
| 32 | Zach Veach | 23 |
| 33 | Sage Karam | 23 |
| 34 | James Davison | 21 |
| 35 | Tristan Vautier | 15 |
| 36 | Buddy Lazier | 14 |