The only New Zealand team in the V8 Supercars championship may be the new boys on the block but they are going about their business as professionally as they can. Super Black Racing owner Tony Lentino is leaving no stone unturned in an effort to give his team the best possible platform to do the business in their inaugural season.
After testing the waters at Bathurst last year with young Andre Heimgartner and Ant Pedersen piloting the black car, Lentino decided to go the whole hog this year and take on the Aussies at their own game. The team's spiritual home is firmly anchored on his property just south of Wellsford in the upper reaches of Rodney, where the official launch was held last week.
However, practicality dictated he also needed a tie in with an existing, established outfit. Who better than the Ford Performance Racing team that this year has reverted back to Prodrive Racing (Australia) after Ford's announcement it was pulling out of V8 racing in Australia?
Lentino has appointed the heavily experienced and two-time World Touring Car champion Paul Radisich as team principal.
"We're totally excited and we've got a great team and can't wait to get [the season] started," said Lentino.
"It's awesome now that we can confirm Paul Radisich is going to lead the team and we now have a good foundation to start the season. We don't expect magic over night, as it'll be a slow process to build success.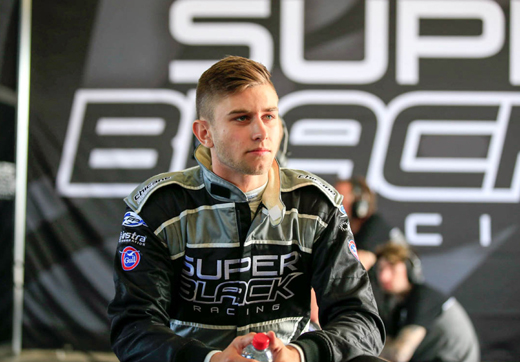 "The team spirit and how well we did at Bathurst last year [11th] hooked me and I'll be at as many meetings as I can. It's super exciting having a Kiwi team in the series and having Prodrive behind us means we've got one of the best there is.
"Being a young team and having a young driver in Andre with us is the core of what we're trying to do – it's about youth. He's also got the ability to do well."
Also on hand at the launch were Prodrive Racing's current drivers, Bathurst winners Mark Winterbottom and Chaz Mostert and David Reynolds. The three and Heimgartner, were in New Zealand for a week attending a fitness boot camp at the Millennium Institute.
"New Zealand is a massive part of our sport," said Winterbottom. "Sure there's a couple of New Zealand drivers in the series but what's missing is a Kiwi team.
"It's important that you just don't put a team in to fill a gap. You want to put a team in that's hungry to do well and is competitive.
"You just have to have a look around this joint to see these guys are serious. It's great they are involved with us and all our cars are equal. We don't use the good stuff on just one side of the shed – it's all the same across everyone.
"They'll [SBR] get the same stuff as cars five and six and going so well at Bathurst is a good start."
The first hit-out will be at the V8SC official test day in Sydney, February 7-8.
Heimgartner may only be 19 but he's been punting V8s and Porsche Carrera Cup cars around for a while. He's raced in the NZ SuperTourers series and just completed a season in the Aussie V8 Development Series where he finished fifth.
"Bathurst was a good start and today is where it gets real and is another step towards a whole season," said Heimgartner. "I'm sure it'll be even more so when I get through the official test and get to Clipsal [Adelaide] for the first race.
"Obviously with it being my first race in the main game I'm going to be a bit nervous, but once I get into a rhythm and get all the procedures down I should be all right.
"We don't really have too many goals going into our first season and will keep an open mind. It'll be tough no doubt and we'll just have to learn throughout the season.
"It's great having Frosty [Winterbottom] and Dave [Reynolds] to learn from. Realistically, if we get into the top 10 and have a few good races we'll be happy. I'm young and although that's no excuse, I do have a few years to learn the category and develop and I can't wait to start.
"I also couldn't be happier and couldn't have gone in with a better team [Prodrive]. The cars are race-winning cars and the new FGX looks pretty exciting. I've come in at a good time, Frosty tells me."
The 14-round championship starts with official testing. Racing starts on the streets of Adelaide, February 26-March 1.