Lewis Hamilton beat Sebastian Vettel to the fastest time in second practice for the Formula 1 season-ending Abu Dhabi Grand Prix.
Mercedes driver Hamilton clocked a 1m37.877s to finish 0.149 seconds clear of Vettel's Ferrari with Red Bull's Daniel Ricciardo a tenth and a half further back in third.
Hamilton, who was pipped to the quickest time in first practice by Vettel, set the early benchmark with a 1m39.720s, with Ricciardo just 0.040s off in second.
The Briton continued with that run and improved again, with a 1m38.912s, to move 0.848s clear of Ricciardo as the sun set at Yas Marina.
Valtteri Bottas was the first driver to complete a qualifying simulation, clocking a 1m38.609s to go quickest in his Mercedes.
The Finn was usurped by Vettel before Hamilton became the first and only man to dip into the 1m37s.
With just over 40 minutes to go, attention turned to long-run data gathering, with Bottas and Hamilton focusing on the ultra-softs.
Hamilton then joined Vettel on running the super-softs for the final part of the 90-minute session, which provided conditions that would be similar to those in the race.
Ferrari's Kimi Raikkonen was fourth quickest, 0.475s off the pace, with Bottas two tenths further back in fifth.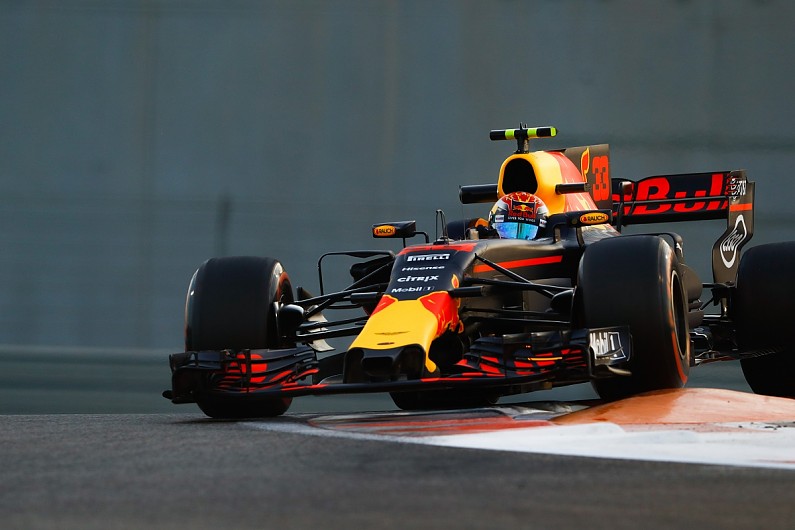 Red Bull's Max Verstappen was a second off the pace in seventh and 0.7s slower than team-mate Ricciardo.
Force India duo Sergio Perez and Esteban Ocon, who were separated by just 0.010s, were eighth and ninth respectively.
Renault's Nico Hulkenberg and McLaren's Fernando Alonso completed the top 10.
Felipe Massa, contesting his last grand prix weekend, was the leading Williams in 11th, seven tenths ahead of team-mate Lance Stroll.
Romain Grosjean spent most of the session in the garage as his Haas team worked on fixing an electrical problem, and completed just 12 laps.
FP2 times
| POS | DRIVER | CAR | TIME | GAP | LAPS |
| --- | --- | --- | --- | --- | --- |
| 1 | Lewis Hamilton | Mercedes | 1m37.877s | – | 39 |
| 2 | Sebastian Vettel | Ferrari | 1m38.026s | 0.149s | 37 |
| 3 | Daniel Ricciardo | Red Bull/Renault | 1m38.180s | 0.303s | 34 |
| 4 | Kimi Raikkonen | Ferrari | 1m38.352s | 0.475s | 35 |
| 5 | Valtteri Bottas | Mercedes | 1m38.537s | 0.660s | 33 |
| 6 | Max Verstappen | Red Bull/Renault | 1m38.894s | 1.017s | 34 |
| 7 | Sergio Perez | Force India/Mercedes | 1m39.323s | 1.446s | 33 |
| 8 | Esteban Ocon | Force India/Mercedes | 1m39.333s | 1.456s | 36 |
| 9 | Nico Hulkenberg | Renault | 1m39.529s | 1.652s | 41 |
| 10 | Fernando Alonso | McLaren/Honda | 1m39.559s | 1.682s | 28 |
| 11 | Felipe Massa | Williams/Mercedes | 1m39.635s | 1.758s | 36 |
| 12 | Stoffel Vandoorne | McLaren/Honda | 1m39.671s | 1.794s | 31 |
| 13 | Carlos Sainz | Renault | 1m40.201s | 2.324s | 38 |
| 14 | Lance Stroll | Williams/Mercedes | 1m40.329s | 2.452s | 30 |
| 15 | Pierre Gasly | Toro Rosso/Renault | 1m40.694s | 2.817s | 39 |
| 16 | Kevin Magnussen | Haas/Ferrari | 1m41.128s | 3.251s | 31 |
| 17 | Pascal Wehrlein | Sauber/Ferrari | 1m41.270s | 3.393s | 43 |
| 18 | Marcus Ericsson | Sauber/Ferrari | 1m41.302s | 3.425s | 40 |
| 19 | Brendon Hartley | Toro Rosso/Renault | 1m41.496s | 3.619s | 39 |
| 20 | Romain Grosjean | Haas/Ferrari | 1m41.560s | 3.683s | 12 |