Eleven-time grand prix winner Rubens Barrichello will contest this month's Daytona 24 Hours together with 2014 Indy 500 winner Ryan Hunter-Reay at the wheel of a Starworks Riley prototype.
Barrichello and Hunter-Reay have agreed late deals to contest the Tudor United SportsCar Championship opener on January 24/25 with Starworks boss Peter Baron and will share the Dinan/BMW-powered Riley DP together with Porsche factory driver Brendon Hartley, Briton Tor Graves and team regular Scott Mayer.
Baron revealed that he had been in a dialogue with Barrichello, who raced a Porsche 911 GT3 Cup at Daytona two years ago as part of an all-Brazilian line-up, since 2012.
"When Rubens was doing his IndyCar season we were contemplating getting him in a car at a couple of races, but it didn't really work out," he told AUTOSPORT.
"Brendon was a given for this season straight after doing Daytona with us last year and apparently Rubens was hanging out with the Porsche guys at the Brazilian World Endurance Championship race [last November], and said, 'you've got to get me in a car for Daytona'.
"He came back to me, so I know that he really wants to do it – that's important when you bring in a star driver for Daytona."
Daytona will be Barrichello's second taste of a Daytona Prototype: he drove a Grand-Am version of the Riley entered by Doran Racing (pictured) to fifth place at the Indianapolis 3 Hours in 2013.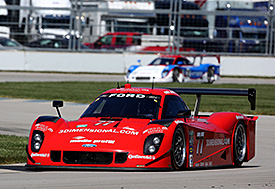 Hunter-Reay is resuming a relationship with Baron that stretches back to a handful of Grand-Am starts at the wheel of a Porsche in 2006 when the team was known as SAMAX.
Starworks has made an entry for the four North American Endurance Cup rounds of the USC with its Riley-Dinan/BMW, but Baron has yet to decide on who will race the car at the Sebring 12 Hours in March and subsequent races.
Barrichello would not be available for the second USC round in March because it clashes with the start of the defence of his Brazilian V8 Stock Car Championship crown at Goiania.
Starworks has switched back to the Dinan-tuned BMW V8 after experimenting with Honda Performance Development's V6 twin-turbo at Sebring and Petit Le Mans at Road Atlanta last year.
"The Honda needed more development and there probably isn't a market for it right now, so it was a long way down HPD's list of priorities," Baron explained.
Starworks is one of 16 Prototype class cars on the entry list of the official pre-season USC test at Daytona, which starts on Friday.