Mitch Evans took his second GP2 win of the season after a frenetic Bahrain battle with Williams Formula 1 development driver Alex Lynn.
From sixth on the grid Evans took advantage of a messy start by Nobuharu Matsushita, who was up to second before he made contact with Rio Haryanto and spun.
The clash forced several drivers wide and left the Honda protege out of the race.
This allowed Evans to move up to third behind Stoffel Vandoorne and polesitter Lynn.
Any early progress was halted, though, when the safety car was deployed following contact between Oliver Rowland and Rene Binder.
Formula Renault 3.5 champion Rowland went over the back of Binder's Dallara, and was sent airborne, before landing hard back on the track and sliding off into the barriers.
After the restart Lynn moved himself out of DRS range from Vandoorne, but the Belgian was more preoccupied with Evans behind him.
The Russian Time driver lined Vandoorne up for a pass at Turn 1 but couldn't make it stick, so switched back for a better run into the next few corners.
The move worked perfectly for Evans and he was able to dive down the inside of Vandoorne and relieve him of second place at Turn 3.
Evans quickly set about chasing down Lynn for the lead and within three laps the gap between the two was down to 0.4 seconds.
The Kiwi tried to repeat his switchback move on Vandoorne but Lynn was wise to it and held onto the lead, but only for a few more laps.
Evans briefly took the lead into Turn 1 before Lynn regained the place at Turn 3, but there was nothing the DAMS driver could do on the following lap as Evans completed a bold, late-braking move up the inside of Turn 3.
From that point on Evans disappeared into the distance and remained untouched to take his second win of the season, and second podium finish of the weekend.
Lynn on the other hand fell into the clutches of Vandoorne, who breezed past the Brit at Turn 1 with the help of DRS.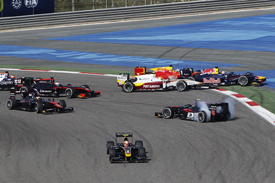 Further back, Sergey Sirotkin completed an outrageous move on the outside of Turn 12 on the final lap to take fourth from Raffaele Marciello.
Jordan King completed an impressive recovery drive after running wide at Turn 1 to avoid contact with Matsushita.
The Racing Engineering driver was able to demote Red Bull junior Pierre Gasly on the final lap at Turn 3 to take his best finish since the sprint race at Spa in August.
Artem Markelov ran in fourth for the majority of the race but fell down the order in the closing stages due to tyre wear.
Alexander Rossi finished ninth ahead of Norman Nato, who started last after picking up a puncture in the feature race.
RESULTS – 23 LAPS:
| Pos | Driver | Team | Gap |
| --- | --- | --- | --- |
| 1 | Mitch Evans | RUSSIAN TIME | 42m51.663s |
| 2 | Stoffel Vandoorne | ART Grand Prix | 1.863s |
| 3 | Alex Lynn | DAMS | 17.489s |
| 4 | Sergey Sirotkin | Rapax | 20.154s |
| 5 | Raffaele Marciello | Trident | 21.026s |
| 6 | Jordan King | Racing Engineering | 21.661s |
| 7 | Pierre Gasly | DAMS | 22.857s |
| 8 | Artem Markelov | RUSSIAN TIME | 26.686s |
| 9 | Alexander Rossi | Racing Engineering | 27.295s |
| 10 | Norman Nato | Arden International | 34.387s |
| 11 | Nicholas Latifi | MP Motorsport | 37.588s |
| 12 | Dean Stoneman | Carlin | 42.637s |
| 13 | Gustav Malja | Rapax | 45.771s |
| 14 | Daniel de Jong | Trident | 47.088s |
| 15 | Sean Gelael | Carlin | 48.410s |
| 16 | Arthur Pic | Campos Racing | 48.602s |
| 17 | Sergio Canamasas | Daiko Team Lazarus | 59.866s |
| 18 | Rio Haryanto | Campos Racing | 59.942s |
| 19 | Marlon Stockinger | Status Grand Prix | 1m01.931s |
| 20 | Andre Negrao | Arden International | 1m09.902s |
| – | Nathanael Berthon | Daiko Team Lazarus | Retirement |
| – | Rene Binder | MP Motorsport | Retirement |
| – | Oliver Rowland | Status Grand Prix | Retirement |
| – | Nobuharu Matsushita | ART Grand Prix | Retirement |
DRIVERS' CHAMPIONSHIP:
| Pos | Driver | Points |
| --- | --- | --- |
| 1 | Stoffel Vandoorne | 316.5 |
| 2 | Alexander Rossi | 169.5 |
| 3 | Sergey Sirotkin | 139 |
| 4 | Rio Haryanto | 132 |
| 5 | Mitch Evans | 120 |
| 6 | Alex Lynn | 106 |
| 7 | Pierre Gasly | 96 |
| 8 | Raffaele Marciello | 92 |
| 9 | Nobuharu Matsushita | 68.5 |
| 10 | Richie Stanaway | 60 |
| 11 | Arthur Pic | 60 |
| 12 | Jordan King | 52 |
| 13 | Artem Markelov | 48 |
| 14 | Julian Leal | 38 |
| 15 | Sergio Canamasas | 27 |
| 16 | Nathanael Berthon | 24 |
| 17 | Robert Visoiu | 20 |
| 18 | Norman Nato | 20 |
| 19 | Nick Yelloly | 19 |
| 20 | Oliver Rowland | 3 |
| 21 | Andre Negrao | 3 |
| 22 | Rene Binder | 2 |
| 23 | Daniel de Jong | 1 |
| 24 | Dean Stoneman | 1 |
| 25 | Gustav Malja | 1 |
| 26 | Marlon Stockinger | 0 |
| 27 | Nicholas Latifi | 0 |
| 28 | Johnny Cecotto Jr. | 0 |
| 29 | Zoel Amberg | 0 |
| 30 | Sean Gelael | 0 |
| 31 | Simon Trummer | 0 |
| 32 | Jon Lancaster | 0 |
| 33 | Marco Sorensen | 0 |
| 34 | Patric Niederhauser | 0 |
| 35 | Jann Mardenborough | 0 |