Thierry Neuville took his first World Rally Championship victory of the season with a dominant performance on Rally Sweden, while Craig Breen took a career-best second.
Both Neuville and Breen rebounded fantastically from their showings last year on the event, when Neuville crashed out of the lead and Breen had to deal with a recalcitrant Citroen C3 WRC.
Neuville controlled the rally from the first stage proper on Friday, and only a spin on Saturday morning's loop threatened his dominance.
That allowed Breen to close in, but Neuville then re-established his lead on Saturday afternoon and sealed victory with a conservative but intelligent drive on Sunday to win by 19.8 seconds.
Breen, who targeted a podium pre-event, betters his Rally Finland third-place in 2016 with the result in Sweden, showing a dramatic improvement in the C3.
Rounding out the podium was Andres Mikkelsen, who span at the same corner as Neuville on Saturday morning and could not retake second place from Breen.
The third Hyundai of Hayden Paddon held fourth for most of the rally, but he was beaten to the position by the leading Toyota – the car that won last year's event in Jari-Matti Latvala's hands – of Esapekka Lappi on Sunday morning.
Lappi had been in a fight for the podium but a mistake on Friday left him scrabbling to rebound. He did so emphatically on Sunday morning, and was aided further by a Paddon trip into a snowbank on the powerstage.
Lappi also claimed five points for the powerstage win to add to his comeback drive. Paddon did hold onto fifth despite his off, with Mads Ostberg close to usurping him.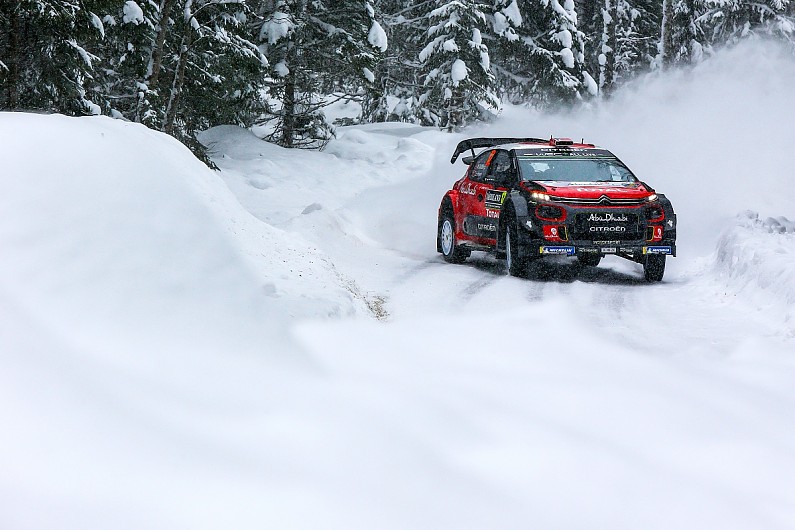 Ostberg was making his debut in a C3 WRC and was in the top five for most of the event, but struggled for a consistent feel from him car and eventually reverted to his original set-up.
Latvala was another driver who struggled with set-up and showed no sign of matching last year's winning performance. A front driveshaft issue did not help his cause on Friday, and he eventually finished seventh.
On his first outing in a modern World Rally Car this year, Teemu Suninen finished as the top M-Sport Ford Fiesta WRC driver, despite being ultra-critical of his own driving on his first outing in Sweden in modern machinery.
Ott Tanak (Toyota) and Suninen's team-mate Sebastien Ogier both struggled with road sweeping on Friday and struggled to rebound.
Tanak did the best job, moving through the top 10 before he was caught behind the stalled Citroen of Kris Meeke on Saturday and dropped down to ninth, where he remained.
Ogier took second on the powerstage, claiming four points, but was also hit with a penalty for being late to time control before the final stage.
The Monte Carlo Rally winner was due to start ahead of Tanak in the order but dropped way down the field. It is not clear whether Ogier had a problem or if it was a tactical move to gain road position.
A penalty of 4m10s meant Ogier dropped to 11th and promoted team-mate Elfyn Evans into 10th, but Evans himself was later hit with a 4m20s penalty – for being 26 minutes late to the time control holding area – which returned Ogier to the final points position.
Takamoto Katsuta earned WRC2 honours in a brilliant drive. The Finnish-based Japanese driver beat reigning champion Pontus Tidemand to the honours.
Final classification
| POS | DRIVER | TEAM | CAR | GAP |
| --- | --- | --- | --- | --- |
| 1 | Thierry Neuville, N.Gilsoul | Hyundai Shell Mobis WRT | Hyundai | 2h52m13.1s |
| 2 | Craig Breen, S.Martin | Citroen Total Abu Dhabi WRT | Citroen | 19.8s |
| 3 | Andreas Mikkelsen, A.Jager | Hyundai Shell Mobis WRT | Hyundai | 28.3s |
| 4 | Esapekka Lappi, J.Ferm | Toyota Gazoo Racing WRT | Toyota | 45.8s |
| 5 | Hayden Paddon, S.Marshall | Hyundai Shell Mobis WRT | Hyundai | 54.4s |
| 6 | Mads Ostberg, T.Eriksen | Citroen Total Abu Dhabi WRT | Citroen | 1m15.3s |
| 7 | Jari-Matti Latvala, M.Anttila | Toyota Gazoo Racing WRT | Toyota | 2m04.9s |
| 8 | Teemu Suninen, M.Markkula | M-Sport Ford WRT | Ford | 2m52.2s |
| 9 | Ott Tanak, M.Jarveoja | Toyota Gazoo Racing WRT | Toyota | 3m44.4s |
| 10 | Elfyn Evans, D.Barritt | M-Sport Ford WRT | Ford | 5m27.4s |
Powerstage results
| POS | DRIVER | TEAM | CAR | GAP |
| --- | --- | --- | --- | --- |
| 1 | Esapekka Lappi, J.Ferm | Toyota Gazoo Racing WRT | Toyota | 6m01.2s |
| 2 | Sebastien Ogier, J.Ingrassia | M-Sport Ford WRT | Ford | 1.3s |
| 3 | Andreas Mikkelsen, A.Jager | Hyundai Shell Mobis WRT | Hyundai | 1.9s |
| 4 | Thierry Neuville, N.Gilsoul | Hyundai Shell Mobis WRT | Hyundai | 3.2s |
| 5 | Ott Tanak, M.Jarveoja | Toyota Gazoo Racing WRT | Toyota | 5.2s |
Drivers' standings
| POS | DRIVER | POINTS |
| --- | --- | --- |
| 1 | Thierry Neuville | 41 |
| 2 | Sebastien Ogier | 31 |
| 3 | Jari-Matti Latvala | 23 |
| 4 | Esapekka Lappi | 23 |
| 5 | Ott Tanak | 21 |
| 6 | Andreas Mikkelsen | 21 |
| 7 | Craig Breen | 20 |
| 8 | Kris Meeke | 17 |
| 9 | Hayden Paddon | 10 |
| 10 | Elfyn Evans | 8 |